Latin Lawyer Deal of the Year winners announced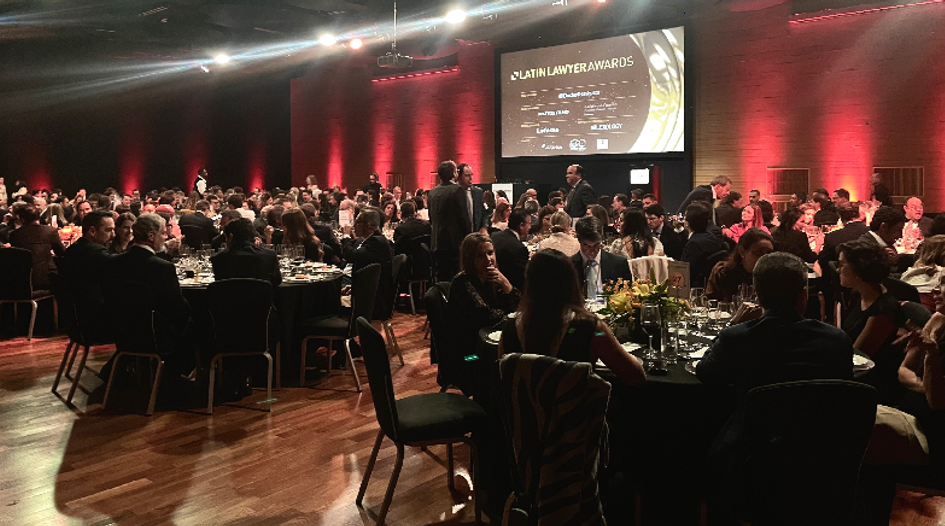 Latin Lawyer announced the winners of its 17th annual Deal of the Year Awards at a charity dinner in São Paulo on 11 May, which was attended by over 270 guests.
The winning deals are:
Capital markets – Brazil privatises Eletrobras 
Banking & finance – Phoenix Towers repackages loans
Project finance: infrastructure – Peruvian port concessionaire gets novel IDB Invest financing
Project finance: energy and natural resources – Innergex refinances Chilean renewables projects with proceeds from green bond offering
M&A (public) – Univision and Televisa form largest Spanish-language media group 
M&A (private) – GIP buys LatAm renewables group Atlas from Actis
Corporate finance: ESG – Chile issues world's first sovereign sustainability-linked bonds
Private Equity – Multiple firms steer Lumen's US$2.7 billion LatAm business sale
Disputes – Rutas de Lima vs the Metropolitan Municipality of Lima
Regulatory – Aegea wins bid in Corsan privatisation
Restructuring – LATAM Airlines exits Chapter 11
The proceeds from the awards will go to three local clearinghouses: Brazil's Instituto Pro Bono, Paraguayan clearinghouse CIDSEP and Fundación Pro Bono in Uruguay.
Latin Lawyer also presented Individual Awards to lawyers that have been recognised for their outstanding contributions to the legal community in 2022. Beccar Varela's managing partner Horacio Beccar Varela was presented with the Law Firm Leader of the Year Award, while the recipient of this year's Specialist Law Firm Leader of the Year Award was Martín Gustavo Ibarra Pardo, CEO of Colombia's Araújo Ibarra International Trade Consultants.
At the event, two Lifetime Achievement Awards were presented to Carlos Lombardi of Argentina's Bruchou & Funes de Rioja and Ordélio Azevedo Sette, founding partner of Azevedo Sette Advogados in Brazil. Julie Bédard of Skadden, Arps, Slate, Meagher & Flom LLP was the winner of this year's International Lawyer of the Year Award.
Guyer & Regules went home with this year's Pro Bono Law Firm of the Year Award for its monumental efforts to both build a robust, internal pro bono practice and encourage other local firms to take on pro bono work. Creel, García-Cuéllar, Aiza y Enríquez SC in Mexico City and Latham & Watkins LLP were presented with this year's Pro Bono Project of the Year Award for helping LGBTQ+ charity The Trevor Project launch in Mexico.
TozziniFreire Advogados collected the Diversity Initiative of the Year Award for its commitment to hiring more transgender people. Fellow Brazilian firm Pinheiro Neto Advogados took home the inaugural ESG Initiative Award for its sustainable and socially responsible policies.
On behalf of Latin Lawyer, we would like to congratulate all of this year's winners for all of their hard work on the deals awarded last night.
Capital markets
Counsel to BNDES 
Shearman & Sterling LLP 
Lefosse 
Tauil & Chequer Advogados in association with Mayer Brown 
Counsel to Eletrobras 
In-house counsel - André de Avellar Torres, Pedro Motta and Paula Prado Rodrigues 
Clifford Chance LLP 
Pinheiro Guimarães  
Counsel to Banco BTG Pactual, Bank of America Merrill Lynch Banco Múltiplo, Goldman Sachs do Brasil Banco Múltiplo, Banco Itaú BBA, XP Investimentos Corretora de Câmbio, Títulos e Valores Mobiliários, Banco Bradesco BBI, Caixa Econômica Federal, Citigroup Global Markets Brasil, Banco de Investimentos Credit Suisse (Brasil), Banco JP Morgan, Banco Morgan Stanley and Banco Safra  
White & Case LLP  
Mattos Filho 
***
Banking & finance
Phoenix Towers repackages loans
Counsel to Phoenix Tower International 
Locke Lord LLP 
Barros Silva Varela & Vigil 
Posse Herrera Ruiz
Bustamante Fabara 
Greenberg Traurig SC  
Alemán, Cordero, Galindo & Lee 
Nassar Abogados (Costa Rica) 
Nassar Abogados (El Salvador) 
Nassar Abogados (Guatemala) 
Philippi Prietocarrizosa Ferrero DU & Uría (Peru) 
Counsel to Scotiabank 
In-house counsel - Joanna Weinstein 
White & Case LLP 
Moreno Baldivieso Estudio de Abogados 
Philippi Prietocarrizosa Ferrero DU & Uría (Chile) 
Brigard Urrutia 
Zürcher Odio & Raven  
Headrick Rizik Alvarez & Fernández 
Pérez Bustamante & Ponce (PBP) 
BLP (El Salvador) 
BLP (Guatemala) 
Arias, Fábrega & Fábrega 
Payet, Rey, Cauvi, Pérez Abogados 
***
Project finance: infrastructure
Peruvian port concessionaire gets novel IDB Invest financing
Counsel to Salaverry Terminal Internacional 
In-house counsel – Jaime Noel 
White & Case LLP 
Rodrigo, Elías & Medrano Abogados 
Counsel to IDB Invest, Prudential, Metlife and Cigna 
In-house counsel to IDB Invest – Katherine Scheider Hallahan and Ignacio Imas Innella
Allen & Overy LLP 
Garrigues (Peru) 
Counsel to Citibank 
Miranda & Amado 
***
Project finance: energy and natural resources
Innergex refinances Chilean renewables projects with proceeds from green bond offering
Counsel to Innergex  
DLA Piper LLP  
DLA Piper (Chile) 
Counsel to SMBC and CIBC World Markets 
Paul Hastings LLP 
Garrigues 
Philippi Prietocarrizosa Ferrero DU & Uría (Chile) 
***
M&A (public)
Univision and Televisa form largest Spanish-language media group 
For the acquisition 
Counsel to Univision 
In-house counsel – Amy Tenbrink 
Paul, Weiss, Rifkind, Wharton & Garrison LLP 
Galicia Abogados 
Counsel to Televisa 
In-house counsel – Luis Alejandro Bustos, Armando Martínez, Nemer Farjat, Javier Luevanos Ortiz de Rosas, Liliana Martínez and Francisco Fernández 
Wachtell, Lipton, Rosen & Katz LLP  
Mijares, Angoitia, Cortés y Fuentes SC 
Gómez-Pinzón
For antitrust matters 
Counsel to Univision 
Covington & Burling LLP 
Galicia Abogados 
Counsel to Televisa 
In-house counsel – Luis Alejandro Bustos, Armando Martínez, Jesus Araujo, Nemer Farjat, Javier Luevanos Ortiz de Rosas and Liliana Martínez 
Pillsbury Winthrop Shaw Pittman 
Mijares, Angoitia, Cortés y Fuentes SC 
For the equity investment   
Counsel to Softbank  
In-house counsel – Stephen Pelliccia and Stephen Lam 
Cleary Gottlieb Steen & Hamilton LLP 
Galicia Abogados 
Counsel to Google
Cleary Gottlieb Steen & Hamilton LLP 
Counsel to The Raine Group 
Pillsbury Winthrop Shaw Pittman 
***
M&A (private)
GIP buys LatAm renewables group Atlas from Actis
Counsel to Global Infrastructure Partners (GIP)
In-house counsel - Julie Ashworth and Marissa Marco 
Latham & Watkins LLP 
Machado Meyer Advogados 
Morales & Besa 
Galicia Abogados 
Posadas 
Counsel to Actis 
Skadden, Arps, Slate, Meagher & Flom LLP 
Pérez-Llorca 
Mattos Filho 
Claro & Cía 
Mijares, Angoitia, Cortés y Fuentes SC 
Ferrere (Uruguay) 
***
Corporate finance: ESG
Chile issues world's first sovereign sustainability-linked bonds
Counsel to the Republic of Chile 
Linklaters 
Morales & Besa 
Counsel to BNP Paribas, Crédit Agricole and Société Générale 
Cleary Gottlieb Steen & Hamilton LLP 
Garrigues (Chile) 
***
Private Equity
Multiple firms steer Lumen's US$2.7 billion LatAm business sale
Counsel to Stonepeak Infrastructure 
Simpson Thacher & Bartlett LLP 
Marval O'Farrell Mairal  
Mattos Filho  
TozziniFreire Advogados
Barros & Errázuriz Abogados 
Gómez-Pinzón 
Consortium Legal (Costa Rica)   
Pérez Bustamante & Ponce (PBP)  
Creel, García-Cuéllar, Aiza y Enriquez SC 
Arias, Fábrega & Fábrega 
Rebaza, Alcázar & De Las Casas  
Guyer & Regules  
Travieso Evans Arria Rengel & Paz 
Counsel to AustralianSuper 
Skadden, Arps, Slate, Meagher & Flom LLP 
Counsel to Lumen
Jones Walker LLP
KLA Advogados
Miranda & Amado
D'Empaire
***
Disputes
Rutas de Lima vs the Metropolitan Municipality of Lima
Counsel to Rutas de Lima 
White & Case LLP
Estudio Echecopar member firm of Baker McKenzie International
Rodrigo, Elías & Medrano Abogados 
***
Regulatory
Aegea wins bid in Corsan privatisation
Counsel to Aegea 
Tauil & Chequer Advogados in association with Mayer Brown 
Souto Correa Advogados 
Counsel to Companhia Riograndense de Saneamento (Corsan) 
Lefosse 
***
Restructuring
LATAM Airlines exits Chapter 11
Counsel to LATAM Airlines 
Cleary Gottlieb Steen & Hamilton LLP 
Norton Rose Fulbright
Togut, Segal & Segal LLP 
Claro & Cía 
Demarest Advogados 
Machado Meyer Advogados
Brigard Urrutia  
Pérez Bustamante & Ponce (PBP) 
Rodrigo, Elías & Medrano Abogados 
Counsel to Delta Airlines 
Davis Polk & Wardwell LLP 
Perella Weinberg Partners 
Barros & Errázuriz Abogados 
Counsel to Qatar Airways 
Alston & Bird LLP 
Mattos Filho
Carey 
Counsel to the ad hoc group of claimants 
Kramer Levin Naftalis & Frankel LLP 
Bofill Escobar Silva Abogados 
Coeymans, Edwards, Poblete & Dittborn 
Counsel to the ad hoc group of LATAM bondholders 
White & Case LLP 
Bofill Mir Abogados 
Counsel to Bank of America
Paul Hastings LLP
Pinheiro Neto Advogados
Counsel to local bondholders and Banco Estado
In-house counsel to Banco Estado - Gabriela Blu Salcedo and Arturo Corte Eterovic
Paul Hastings LLP  
Garrigues (Chile) 
Honorato Delaveau 
Gutiérrez, Waugh, Jimeno & Asenjo 
Counsel to the official committee of unsecured creditors 
Dechert 
Morales & Besa
Counsel to Oaktree Capital Management 
White & Case LLP 
Cescon, Barrieu, Flesch & Barreto Advogados 
ROBALINO 
DLA Piper (Chile) 
DLA Piper Martínez Beltrán 
DLA Piper (Peru) 
Counsel to Knighthead Capital Management 
Quinn Emanuel Urquhart & Sullivan LLP 
Counsel to Cueto Group and Eblen Group as shareholders of LATAM 
Wachtell, Lipton, Rosen & Katz 
Cuatrecasas (Chile) 
Counsel to Columbus Hill Capital Management  
Hunton Andrews Kurth LLP  
For the exit financing 
Counsel to JP Morgan and Goldman Sachs 
Simpson Thacher & Bartlett LLP 
Cescon, Barrieu, Flesch & Barreto Advogados 
DLA Piper (Chile) 
DLA Piper Martínez Beltrán