Pro Bono Law Firm of the Year Award: Beccar Varela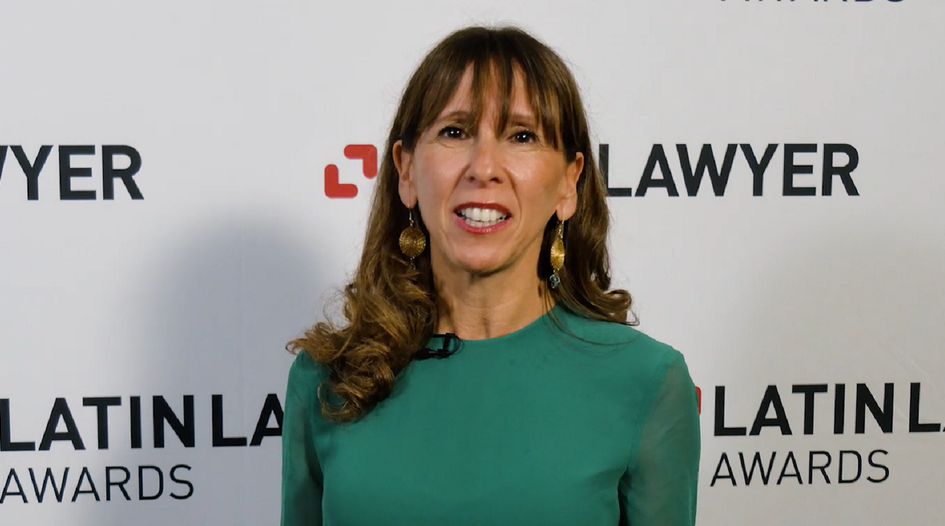 Beccar Varela in Argentina received Latin Lawyer's Pro Bono Law Firm of the Year Award earlier this year in São Paulo. We spoke to the firm about what it takes to build a successful pro bono practice in today's climate.
Fernanda Mierez, Beccar Varela partner and president of Argentine clearinghouse Comisión Pro Bono, accepted the award at Latin Lawyer's annual award ceremony, which was held in May at São Paulo's Hotel Unique.
Mierez told Latin Lawyer that the firm has worked hard to embed a strong culture of pro bono throughout its 125 years of operations, which has helped propel the practice to its recent success. The award would not be possible without the commitment of each of its lawyers, Mierez said.
"When I go back and see how the firm has behaved over the years, we have always been engaged in pro bono," explained the partner, adding that the firm's efforts have become even more well-coordinated over the last 20 years.
Watch the full interview below:
Beccar Varela is passionate about providing access to justice, especially to vulnerable communities, Mierez explained. "We always say that, as lawyers, we have the monopoly on access to justice," said Mierez, who added that the firm's lawyers enjoy fulfilling their duty of giving back to local communities through free legal assistance.
Mierez said that she is particularly proud of the commitment that the firm's lawyers showed to pro bono amid the covid-19 pandemic, almost doubling the number of hours it dedicated to free legal assistance compared to previous years. In 2021, partners at the firm spent a collective 4,002 hours on pro bono matters and recorded an average of 42 hours per lawyer – more than double the 20-hour minimum expected by firms that have signed the Pro Bono Declaration of the Americas. 
Over 118 non-governmental organisations benefited from some 21 pro bono initiatives launched by Beccar Varela in 2021. Among those was Beccar Varela's covid-19 helpline project, through which it advised the public on quickly emerging regulations amid the crisis. Over 2,000 callers used the 24-hour service. In other recent work, the firm coordinated with an NGO that helps Argentinians from lower socio-economic backgrounds gain IT skills and training.
Beccar Varela's pro bono practice is uniquely integrated with its sustainability strategy. This has allowed the firm to institutionalise a culture of pro bono by establishing a tracking system to count the pro bono hours completed by each partner, while it also uses the data to set individual and collective goals on pro bono. The firm has a pro bono co-ordinator, sustainability director Evangelina Petrizza, to lead the work. Petrizza oversees a committee that includes herself and associates Felipe Videla, Mariana Lamarca Vidal and María Cecilia Cappelletti, along with Fernanda Mierez.
Since its pro bono practice launched in 2004, Beccar Varela has spent over 36,675 hours providing free legal advice to more than 1,547 non-profit organisations.
Stay tuned for further interviews with the award winners from the event in upcoming briefings.
To learn more about all of the winners at the recent Deal of the Year Awards ceremony, please click here.