Lifetime Achievement Award: Humberto Medrano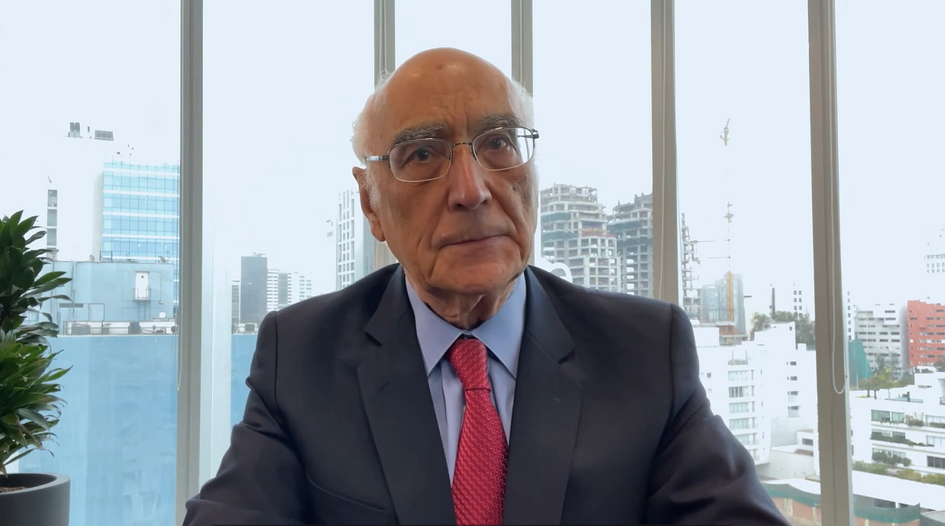 Humberto Medrano of Rodrigo, Elías & Medrano Abogados received Latin Lawyer's Lifetime Achievement Award earlier this year. We caught up with him about the achievements he is most proud of and what advice he has for the next generation of lawyers.
The former managing partner and co-founder of Rodrigo Elías was recognised with the honours at Latin Lawyer's annual awards ceremony in May, which took place in São Paulo.
Watch the full interview below:
With over half a century's experience practising law, Medrano has a reputation as one of Peru's leading tax practitioners. He led Rodrigo Elías's tax practice for over four decades, which overlapped with his time as managing partner from 2001 to 2011. In that role, he helped transform the firm into what it is today known as one of Peru's most highly regarded legal institutions.
Being both a managing partner and partner of the firm was a challenging yet gratifying experience, Medrano says. "Both roles involved hard work for a long period of time, however, they have also been very rewarding and a splendid way to continue my own learning process," says the partner. "After more than half a century since the firm was founded, I can safely say that the effort was worth it," he adds.
Throughout his extensive career, Medrano has drafted multiple important tax laws and regulations. For over 50 years, he has served as a tax professor in Peru's oldest private higher education institute, the Pontificia Universidad Católica del Perú. He also featured as a regular columnist in El Comercio, one of the oldest Spanish-language newspapers in the world.
Medrano's skills extend beyond the law office. He is also an experienced actor that has appeared in multiple theatre productions, while he has also shared his passion for writing by hosting "Wine & Stories" evenings at the firm to share short stories that he has penned.
"Being part of the team that set up and developed the firm, helping it accomplish the great regional prestige it enjoys today, and having had the opportunity to train up young colleagues and learn from them," are some of the biggest accomplishments Medrano mentions when looking back at his time at the firm.
Attention to detail is one of the main pieces of advice that Medrano offers to up-and-coming lawyers. "Pay careful attention to the legal briefs prepared by senior lawyers and their presentation before courts, as those are live lessons in legal practice that can impart invaluable knowledge," he explains.
To see previous interviews with winners from the Deal of the Year Awards and learn more about the firms that were recognised at our event in May, click here.