Law Firm Leader of the Year Award: José Luis Suárez Parra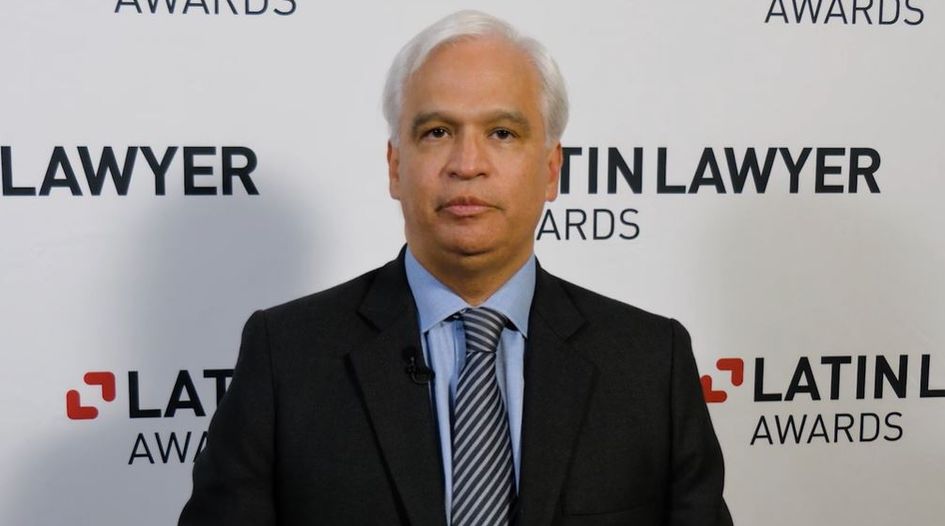 José Luis Suárez Parra, managing partner of Colombia's Gómez-Pinzón, received Latin Lawyer's Law Firm Leader of the Year Award in May this year. Speaking at the event in São Paulo, the partner told us how he steered the firm through the covid-19 pandemic and what it takes to be a great firm leader.
Suárez was presented with his award at Latin Lawyer's annual awards ceremony, which was held at São Paulo's Hotel Unique back in May.   
Watch the full interview below:
Suárez has led Elite firm Gómez-Pinzón to phenomenal success over the past eight years, overseeing a period in which the firm's headcount and profit margins have both grown substantially. Under Suárez's supervision, he ensured that no jobs were at risk even during the worst months of the covid-19 pandemic and at the same time guided the firm to a smooth transition to hybrid working.
Gender equality is at the top of Suárez's agenda. During his tenure, Suárez implemented an extended paternity leave policy, which gives the firm's male staff up to four weeks of paternity leave, 20 days more than stipulated by Colombian law. Latin Lawyer recognised this initiative when it presented the firm with the Latin Lawyer Diversity Initiative Award in 2021.
Gómez-Pinzón has also achieved a more even gender balance in its leadership positions. In 2020, the firm announced partner Lina Uribe as head of its corporate and M&A group, making her one of few women at Latin American law firms to hold that position.
Under Suárez's management, the firm has also strengthened its market position through its commitment to Affinitas, one of Latin America's most successful law firm alliances. It has four Elite firm members across Chile, Colombia, Mexico and Peru, including Gómez-Pinzón. Uribe became the first-ever female member of Affinitas' executive committee when she took over from Suárez in the role in 2020.
Alongside his managerial position, Suárez co-leads several areas of the firm. He jointly helms the banking, finance and capital markets practices, while he also takes charge of the infrastructure group. Suárez continues to have an active role overseeing work in the M&A department.
When talking about what makes a successful law firm leader today, Suárez said: "Today, it is all about giving back to the societies we come from and that we leave behind a better country in terms of the rule of law."