Latin Lawyer Deal of the Year winners announced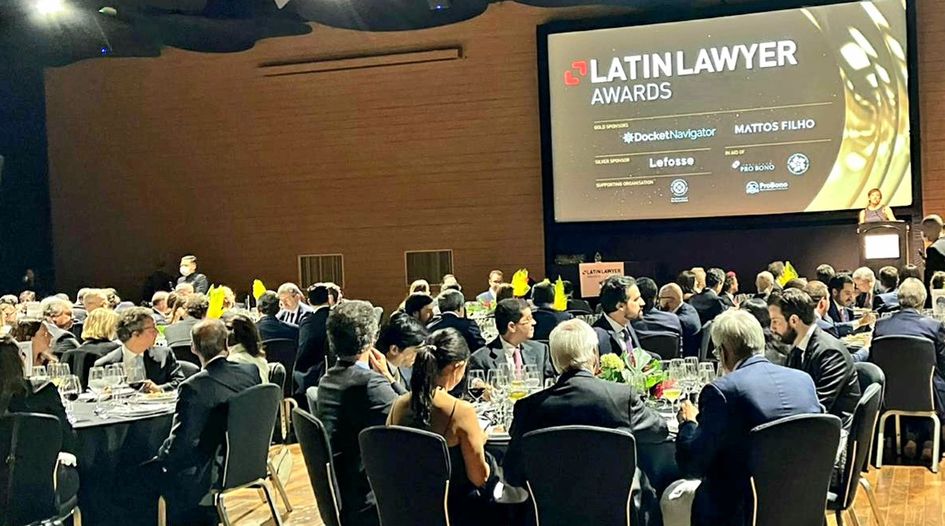 Latin Lawyer announced the winners of its 16th annual Deal of the Year Awards at a charity dinner in São Paulo on 5 May, which was attended by over 250 guests.
The winning deals are:
M&A (public) - AT&T sells LatAm assets to Argentina's Grupo Werthein
M&A (private) - QuintoAndar buys Navent in cross-border proptech deal
Capital markets – Nubank raises US$2.6 billion in IPO
Banking & finance – Cemex gets US$3.25 billion sustainability-linked loan
Project finance: infrastructure – Lima's second metro line obtains financing
Project finance: energy and natural resources – Panamanian gas-fired power project secures finance
Corporate finance: ESG – B3 makes US$700 million sustainability-linked bond offer 
Private Equity – Brazil's IG4 Capital acquires stake in Peruvian infrastructure group Aenza
Disputes – Facebook wins landmark Brazilian internet privacy case 
Regulatory – Brazil raises US$8.5 billion in Latin America's largest 5G auction
Restructuring – Avianca emerges from Chapter 11 process
The proceeds from the awards will go to three local clearinghouses: Comisión Pro Bono Argentina, Centro Mexicano Pro Bono and Instituto Pro Bono in Brazil.
Latin Lawyer also presented Individual Awards to lawyers that have been recognised for their outstanding contributions to the legal community in 2021. Gomez-Pinzón's managing partner José Luis Suárez Parra was presented with the Law Firm Leader of the Year Award, while the recipient of this year's Specialist Law Firm Leader of the Year Award was Luis Vinatea of Peru's Vinatea & Toyama.
At the event, two Lifetime Achievement Awards were presented to Francisco Pinheiro Guimarães Neto of Brazil's Pinheiro Guimarães and Humberto Medrano of Peru's Rodrigo, Elías & Medrano Abogados. Jorge Juantorena from Cleary Gottlieb Steen & Hamilton LLP was the winner of this year's International Lawyer of the Year Award.
Beccar Varela went home with this year's Pro Bono Law Firm of the Year Award for its work helping vulnerable segments of the population gain access to free education and health assistance amid the pandemic. Aguilar Castillo Love (Costa Rica) was presented with this year's Pro Bono Project of the Year Award for its work on the Talamanca project, which helped to integrate members of local indigenous communities into Costa Rica's formal economy. 
Mexican firm González Calvillo, SC collected its Diversity Initiative of the Year Award for the launch of its Diversity and Inclusion Forum in 2021, under which it launched several key initiatives to boost representation and career development for women at the firm, as well as those aimed at increasing diversity within the wider legal community. 
On behalf of Latin Lawyer, we would like to congratulate all of this year's winners for all of their hard work on the deals awarded last night.
M&A (Public)
AT&T sells LatAm assets to Argentina's Grupo Werthein
Counsel to Grupo Werthein
Skadden, Arps, Slate, Meagher & Flom LLP
Bruchou, Fernández Madero & Lombardi
Bustamante Fabara
Carey
Demarest Advogados
D'Empaire
Guyer & Regules
Nader, Hayaux & Goebel
Posse Herrera Ruiz
Rodrigo, Elías & Medrano Abogados
BZSE Attorneys
Chancery Chambers
Pollonais, Blanc, de la Bastide & Jacelon
Counsel to AT&T
Sullivan & Cromwell LLP
Cuatrecasas
Barros & Errázuriz Abogados
Bomchil
Galicia Abogados
Veirano Advogados
Counsel to DirecTV and Alpha Tel Holdings
Maples Group
***
M&A (Private)
QuintoAndar buys Navent in cross-border proptech deal
Counsel to QuintoAndar Servicios Inmobiliarios
In-house counsel - Ana Pellegrini and Alessandra Boin
White & Case LLP
White & Case SC
Wilson Sonsini Goodrich & Rosati
Araquereyna
Arias, Fábrega & Fábrega
Beccar Varela
BMA - Barbosa Müssnich Aragão
Bustamante Fabara
Ferrere (Uruguay)
Miranda & Amado
Campbells
Counsel to Navent Group
In-house counsel – Pilar Etcheverry Boneo
Greenberg Traurig LLP
D'Empaire
Guyer & Regules
KLA Advogados
Kuri Breña, Sánchez Ugarte y Aznar
Marval O'Farrell Mairal
Philippi, Prietocarrizosa Ferrero DU & Uría (Peru)
Spingarn 
Sucre Arias Reyes
On antitrust matters
Counsel to Navent Group
Mattos Filho, Veiga Filho, Marrey Jr e Quiroga Advogados
***
Capital markets
Nubank raises US$2.6 billion in IPO
Counsel to Nubank
In-house counsel - Marco Araujo, Rafael Kato da Silva, Beatriz Outeiro and Pedro Frade
Davis Polk & Wardwell LLP
Pinheiro Neto Advogados
Campbells LLP
Counsel to Nu Invest Corretora de Valores, Morgan Stanley, Goldman Sachs, Citigroup, HSBC, UBS and Banco Safra
White & Case LLP
Mattos Filho, Veiga Filho, Marrey Jr e Quiroga Advogados
***
Banking & finance
Cemex gets US$3.25 billion sustainability-linked loan
Counsel to Cemex
Skadden, Arps, Slate, Meagher & Flom LLP
Counsel to Citibank
Cleary Gottlieb Steen & Hamilton LLP
Galicia Abogados
***
Project finance: infrastructure
Lima's second metro line obtains financing
For the US$811 million financing  
Counsel to Metro de Lima Line 2
Latham & Watkins LLP
Garrigues (Peru)  
Counsel to Cassa Depositi e Prestiti, KfW IPEX-Bank, Société Générale, Banco Santander and Instituto de Crédito Oficial (ICO)
Norton Rose Fulbright
Rodrigo, Elías & Medrano Abogados
Counsel to Citibank del Perú and Citibank
Estudio Echecopar member firm of Baker McKenzie International
For the US$150 million revolving credit facility
Counsel to Metro de Lima Line 2
Garrigues (Peru)  
Counsel to BBVA, Banco de Sabadell and Banco Santander
Rodrigo, Elías & Medrano Abogados
***
Project finance: energy and natural resources
Panamanian gas-fired power project secures finance
Counsel to InterEnergy and AES
Shearman & Sterling LLP
Counsel to AES and Generadora de Gatún
Morgan & Morgan
Counsel to InterEnergy
SIGMA
Counsel to the Natixis, SMBC Bank of China, ICBC, Intesa Sanpaolo, Banco de Sabadell, Scotiabank, Société Génerale, Banco Aliado, Banco Nacional, Caja de Ahorro and Mega ICBC
Paul Hastings LLP
Icaza, González-Ruiz & Alemán
***
Corporate finance: ESG
B3 makes US$700 million sustainability-linked bond offer 
Counsel to B3
Milbank
Pinheiro Guimarães
Counsel to Counsel to Bradesco BBI, Citigroup Global Markets, Itaú BBA, JP Morgan Securities, MUFG Securities Americas, Bank of America Securities, Banco Safra and Santander Investment Securities
Clifford Chance LLP
Machado Meyer Advogados
Counsel to Deutsche Bank
Holland & Knight LLP
***
Disputes
Facebook wins landmark Brazilian internet privacy case 
Counsel to Facebook
TozziniFreire Advogados
Eduardo Antônio Lucho Ferrão Advogados Associados
***
Regulatory
Brazil raises US$8.5 billion in Latin America's largest 5G auction
Counsel to TIM Brasil
Mundie e Advogados
Counsel to Claro Brasil
Maciel Rocha Advogados
Counsel to Telefónica Brasil
Pereira Neto | Macedo Advogados
Rolim, Viotti, Goulart, Cardoso Advogados
Counsel to Algar Telecom
Demarest Advogados
Counsel to Winity Telecom
Lefosse 
Mattos Filho, Veiga Filho, Marrey Jr e Quiroga Advogados
Counsel to Highline
Stocche Forbes
Counsel to Unifique Telecomunicações
Felsberg Advogados
Machado Meyer Advogados
***
Restructuring
Avianca emerges from Chapter 11 process
Counsel to Avianca
In-house counsel - Richard Galindo, Diana Rivas, Natalia Gutierrez de Larrauri, Catalina Perdomo Ortega, Juan Esteban, Pamela Rodriguez Tierradentro and Maria Marquez Montoya
Milbank
Smith, Gambrell & Russell
BLP (Costa Rica)
BLP (El Salvador)
BLP (Guatemala)
BLP (Honduras)
Gómez-Pinzón
Jones Day (Mexico)
Morgan & Morgan
Rodrigo, Elías & Medrano Abogados
Urdaneta Vélez Pearl & Abdallah Abogados
Counsel to Glas Americas
Perkins Coie LLP
Aguilar Castillo Love (Costa Rica)
Aguilar Castillo Love (El Salvador)
Alta Melara & Asociados
Alta QIL+4 Abogados
Galicia Abogados
Guyer & Regules
Philippi Prietocarrizosa Ferrero DU & Uría (Chile)
Philippi Prietocarrizosa Ferrero DU & Uría (Colombia)
Philippi Prietocarrizosa Ferrero DU & Uría (Peru)
Stocche Forbes 
Higgs & Johnson
Conyers Dill & Pearman
Counsel to Advent International Colombia 
Weil, Gotshal & Manges LLP
Counsel to Citibank, Grupo Aval Acciones y Valores and GE Capital Aviation Services (now AerCap)
Latham & Watkins LLP
Counsel to Grupo Aval and Banco de Bogotá
DLA Piper Martínez Beltrán
Counsel to Crédit Agricole CIB and Norddeutsche Landesbank Girozentrale (New York Branch) 
Pillsbury Winthrop Shaw Pittman LLP
Counsel to USAVflow 
Kasowitz Benson Torres LLP
Counsel to USAV secured lenders 
White & Case LLP
Hinckley, Allen & Snyder
Counsel to US Bank National Association 
Dorsey & Whitney
Counsel to Ad Hoc Group of 2023 Noteholders
Paul Hastings LLP 
Dechert
Skadden, Arps, Slate, Meagher & Flom LLP
Counsel to Kingsland Holdings
Cadwalader, Wickersham & Taft LLP
Counsel to Ad hoc group of investors
Davis Polk & Wardwell LLP 
Counsel to JPMorgan Chase & Co
Simpson Thacher & Bartlett LLP
Aguilar Castillo Love (Costa Rica)
Aguilar Castillo Love (El Salvador)
Counsel to Indenture trustee and DIP Agent
Pryor Cashman LLP
Counsel to the official committee of unsecured creditors of Avianca
Willkie Farr & Gallagher LLP
Morrison & Foerster LLP