Diversity Initiative of the Year Award: González Calvillo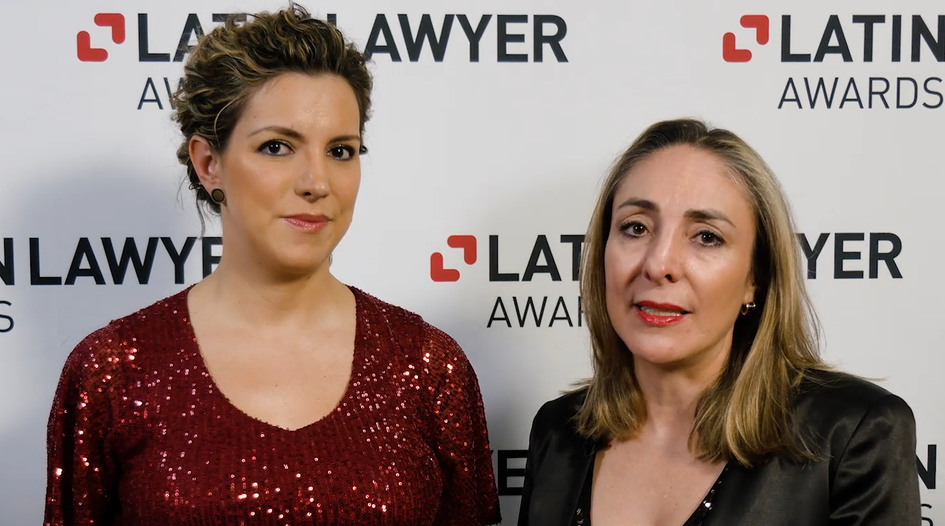 Mexico's González Calvillo, SC received Latin Lawyer's Diversity Initiative of the Year Award earlier this year. We spoke to the firm about the strides it has made to increase equality at the firm since the launch of its Diversity & Inclusion (D&I) Forum in 2021.
Partners and lead members of González Calvillo's D&I committee Cristina Massa and Diana Pineda accepted the award at Latin Lawyer's ceremony in São Paulo in May.
Watch the full interview below:
González Calvillo was recognised with the award for several initiatives it launched under its D&I forum, including schemes designed to boost the careers of its female lawyers.
Under the forum, the firm launched "GC Virtual Coffees," providing opportunities for women at the firm to network with leading female professionals at the top of their careers, from CEOs to high-up government officials. The meetings allowed González Calvillo's female workforce to receive advice on career progression, work-life balance and other professional challenges that are prominently faced by women.
Another initiative under the forum, "GC Clusters," has provided a safe and open space for women to discuss more personal topics and experiences, where they are invited to share any concerns too. The diversity forum has several focus areas to boost the representation of minority groups. "Aside from gender, we have also included sexual orientation, religion and people with disabilities," explained Massa.
Speaking about the impact of the D&I forum, Pineda explained that: "it opened up the conversation not only to people from diverse backgrounds but for everyone at the firm." She said that each of the firm's lawyers has been invited to participate in the forum – and they have been active in doing so.
"Some of these initiatives actually come from underrepresented groups within the firm, for example with the clusters and virtual coffees, the female attorneys themselves participate actively in shaping these programmes; bringing in the speakers and setting the topics," said Massa. "It provides everyone with a sense of belonging," she added.
Alongside the launch of its D&I forum, Latin Lawyer also recognised González Calvillo's work collaborating with NGOs on diversity matters. The firm also participates in the 50/50 Women on Boards programme, which campaigns for large corporations to have even representation of women on their leadership teams. González Calvillo was also one of the firms that helped non-profit organisations AbogadasMX and UN Women draft a report, known as the Minimum Standards for Diversity and Inclusion in Law Firms in Mexico, which put forward methods for improving gender diversity at Mexican law firms.
González Calvillo's efforts are especially commendable given that Mexico is one of the Latin American jurisdictions with the least women in partner positions compared to men.
Listening to people at the firm is instrumental to building a successful diversity strategy, said Pineda. "We are trying to deconstruct our own assumptions, so sometimes we think we know what people need but the biggest impact comes from asking people what they need or want," she added.
Stay tuned for more interviews with recipients of Latin Lawyer's Individual Awards in upcoming briefings.
To find out more about all of the winners from the Deal of the Year Awards, click here.