Deal of the Year 2021: the full shortlist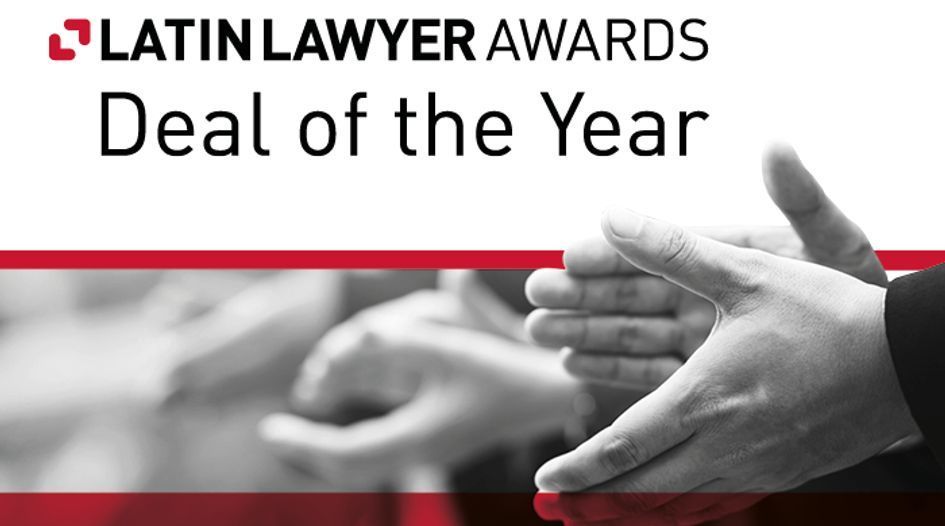 Latin Lawyer will announce the winners of the 16th annual Deal of the Year Awards on the night of our charity awards ceremony at Hotel Unique in São Paulo on Thursday 5 May.
The dinner is being held in aid of three of the region's pro bono clearinghouses. More information and tickets are available here.
The complete shortlist for this year's awards follows below. In each category, three deals or cases were selected.
The full list of this year's awards – including the Individual Awards – can be found here.
Congratulations once again to all those involved in these transactions.
***
Capital markets
***
YPF completes US$6.2 billion exchange offer
Counsel to YPF
In-house counsel - Germán Fernández Lahore, Fernando Gómez Zanou, Francisco Gáspari, Marina Quinteiro, Paola Garbi, Valeria Moglia, Agustina del Pilar Gonzalez, Damian Teglia and Martina Muñua
Cleary Gottlieb Steen & Hamilton LLP
Bruchou, Fernández Madero & Lombardi
Counsel to ad hoc group of bondholders
Dechert
DLA Piper (Argentina)
Counsel to ad hoc YPF bondholder group
Clifford Chance LLP
Bomchil
Counsel to Citigroup Global Markets, HSBC Securities, Itaú BBA USA Securities and Santander Investment Securities, Banco Itaú Argentina, Itaú Valores, Banco Santander Río and HSBC Bank Argentina
In-house counsel Banco Itaú Argentina - Leonardo Andrés Micucci
In-house counsel HSBC Bank Argentina - Julieta Arribas Medrano, Martina Galarraga and Marina Belen Alvarez
In-house counsel Banco Santander Río - Eduardo Ramos and Ignacio García Deibe
Milbank
Tanoira Cassagne Abogados
Counsel to the Bank of New York Mellon
Jones Walker LLP
Counsel to TMF Trust Company
In-house counsel - Luciana Calia, Luis Gustavo Vernet and Leonardo Pirolo
Counsel to La Sucursal de Citibank
In-house counsel - Carlos Vassallo and Cecilia Diaz Llamosas
***
Nubank raises US$2.6 billion in IPO
Counsel to Nubank
In-house counsel - Marco Araujo, Rafael Kato da Silva, Beatriz Outeiro and Pedro Frade
Davis Polk & Wardwell LLP
Pinheiro Neto Advogados
Campbells LLP
Counsel to Nu Invest Corretora de Valores, Morgan Stanley, Goldman Sachs, Citigroup, HSBC, UBS and Banco Safra
White & Case LLP
Mattos Filho, Veiga Filho, Marrey Jr e Quiroga Advogados
***
Chile launches first tariff stabilisation bond
Counsel to PEC Management and Chile Electricity
Holland & Knight LLP
Counsel to TMF Chile Asesorías Empresariales
In-house counsel - Edward O'Connell, Francisca Pérez, Rosario Paz Arriagada Balladares and Augusta Quiñones Fernández
Baraona Marshall & Cia
Counsel to Goldman Sachs and IDB Invest
Clifford Chance LLP
Counsel to Goldman Sachs
In-house counsel - Ariel Fox
Latham & Watkins LLP
Carey
Counsel to IDB Invest
In-house counsel - Ignacio Rodríguez-Viña
Guerrero Olivos
Counsel to AES Gener, Colbún, Enel Green Power Chile, Enel Generación Chile, Engie Energía Chile, Eólica Monte Redondo and Guacolda Energía
In-house counsel to AES Gener and Guacolda Energía - Andrea Sougarret, Jennifer Gillcrist and María Paz Cerda,
In-house counsel to Colbún - Rodrigo Pérez and Rafael Goldsack Trebilcock 
In-house counsel to Engie - Fernando Valdés, Francisca Vásquez and Felipe Artigas
Shearman & Sterling LLP
Claro & Cía
Counsel to Enel Generación Chile and Enel Green Power Chile
In-house counsel - Luis Ignacio Quiñones and Josefa Rodríguez
Morales & Besa
***
Banking and finance
***
Cemex gets US$3.25 billion sustainability-linked loan
Counsel to Cemex
Skadden, Arps, Slate, Meagher & Flom LLP
Counsel to Citibank
Cleary Gottlieb Steen & Hamilton LLP
Galicia Abogados
***
Arroyo obtains financing to buy Gasmar in Chile
Counsel to Arroyo Energy Group
White & Case LLP
Garrigues (Chile)
Counsel to SMBC, BNP Paribas, MUFG Bank, Scotiabank and Scotiabank Chile
Milbank
Claro & Cía
***
Peru's Minera Antamina secures US$1 billion credit facility
Counsel to Compañía Minera Antamina
Sullivan & Cromwell LLP
Rodrigo, Elías & Medrano Abogados
Counsel to Scotiabank, MUFG Bank, Bank of China, BBVA, ICBC, KfW IPEX-Bank, Citibank and JPMorgan Chase & Co
Milbank
Miranda & Amado
***
Project finance: infrastructure
***
Rio public lighting concessionaire makes social bond offering
Counsel to Smart RJ
White & Case LLP
Demarest Advogados
Counsel to Goldman Sachs
Latham & Watkins LLP
Lefosse
Counsel to U.S. International Development Finance Corporation (DFC)
Clifford Chance LLP
Lefosse
Counsel to Citibank
Pinheiro Neto Advogados
***
Paraguay's first PPP road project raises US$220 million
Counsel to Rutas del Este, Sacyr Concesiones and Ocho A
In-house counsel to Rutas del Este and Sacyr Concesiones - Sofía Suarez
In-house counsel to Ocho A - Juan Guiñazu
White & Case LLP
White & Case SC
BKM | Berkemeyer
Counsel to IDB Invest and IDB
Clifford Chance LLP
Colab
Counsel to Citibank
Dentons
Counsel to TMF Group
In-house counsel - Luis Gustavo Vernet and Felipe Couyoumdjian
Gross Brown
***
Lima's second metro line obtains financing
For the US$811 million financing  
Counsel to Metro de Lima Line 2
Latham & Watkins LLP
Garrigues (Peru)  
Counsel to Cassa Depositi e Prestiti, KfW IPEX-Bank, Société Générale, Banco Santander and Instituto de Crédito Oficial (ICO)
Norton Rose Fulbright
Rodrigo, Elías & Medrano Abogados
Counsel to Citibank del Perú and Citibank
Estudio Echecopar member firm of Baker McKenzie International
For the US$150 million revolving credit facility
Counsel to Metro de Lima Line 2
Garrigues (Peru)  
Counsel to BBVA, Banco de Sabadell and Banco Santander
Rodrigo, Elías & Medrano Abogados
***
Project finance: energy and natural resources
***
Mubadala subsidiary makes Brazil's largest-ever project bond offer
Counsel to MC Brazil Downstream Trading
Skadden, Arps, Slate, Meagher & Flom LLP
Pinheiro Neto Advogados
Counsel to JPMorgan Chase & Co, Banco Bradesco BBI, HSBC, Société Générale, Standard Chartered, UBS and Deutsche Bank
Milbank
Machado Meyer Advogados
***
Chile's largest solar plant gets funds
Counsel to Generadora Metropolitana
In-house counsel – Eduardo Diez and Xavier Altuzarra
Latham & Watkins LLP
Larrain y Asociados
Counsel to SMBC, Banco de Crédito e Inversiones, Crédit Agricole CIB, ING Capital LLC, DNB Bank, MUFG Bank, MetLife and Allianz
Milbank
Garrigues (Chile)
***
Panamanian gas-fired power project secures finance
Counsel to InterEnergy and AES
Shearman & Sterling LLP
Counsel to AES and Generadora de Gatún
Morgan & Morgan
Counsel to InterEnergy
SIGMA
Counsel to the Natixis, SMBC Bank of China, ICBC, Intesa Sanpaolo, Banco de Sabadell, Scotiabank, Société Génerale, Banco Aliado, Banco Nacional, Caja de Ahorro and Mega ICBC
Paul Hastings LLP
Icaza, González-Ruiz & Alemán
***
Mergers & Acquisitions: private companies
***
Renova Energia sells power asset to BSB Energética and Eletroriver
Counsel to Renova Energia
Felsberg Advogados
Counsel to BSB Energética and Eletroriver
Cescon, Barrieu, Flesch & Barreto Advogados
***
QuintoAndar buys Navent in cross-border proptech deal
Counsel to QuintoAndar Servicios Inmobiliarios
In-house counsel - Ana Pellegrini and Alessandra Boin
White & Case LLP
White & Case SC
Wilson Sonsini Goodrich & Rosati
Araquereyna
Arias, Fábrega & Fábrega
Beccar Varela
BMA - Barbosa Müssnich Aragão
Bustamante Fabara
Ferrere (Uruguay)
Miranda & Amado
Campbells
Counsel to Navent Group
In-house counsel – Pilar Etcheverry Boneo
Greenberg Traurig LLP
D'Empaire
Guyer & Regules
KLA Advogados
Kuri Breña, Sánchez Ugarte y Aznar
Marval O'Farrell Mairal
Philippi, Prietocarrizosa Ferrero DU & Uría (Peru)
Spingarn 
Sucre Arias Reyes
On antitrust matters
Counsel to Navent Group
Mattos Filho, Veiga Filho, Marrey Jr e Quiroga Advogados
***
Liberty acquires Telefónica's Costa Rica business
Counsel to Liberty Latin America
Baker Botts LLP
EY Law (Costa Rica)
Counsel to Telefónica
Latham & Watkins LLP
Arias (Costa Rica)
***
Mergers & Acquisitions: public companies
***
AT&T sells LatAm assets to Argentina's Grupo Werthein
Counsel to Grupo Werthein
Skadden, Arps, Slate, Meagher & Flom LLP
Bruchou, Fernández Madero & Lombardi
Bustamante Fabara
Carey
Demarest Advogados
D'Empaire
Guyer & Regules
Nader, Hayaux & Goebel
Posse Herrera Ruiz
Rodrigo, Elías & Medrano Abogados
BZSE Attorneys
Chancery Chambers
Pollonais, Blanc, de la Bastide & Jacelon
Counsel to AT&T
Sullivan & Cromwell LLP
Cuatrecasas
Barros & Errázuriz Abogados
Bomchil
Galicia Abogados
Veirano Advogados
Counsel to DirecTV and Alpha Tel Holdings
Maples Group
***
Multiple firms steer US$1.1 billion StoneCo-Linx merger
Counsel to StoneCo
Davis Polk & Wardwell LLP
Mattos Filho, Veiga Filho, Marrey Jr e Quiroga Advogados
Spinelli Advogados
Levy & Salomão Advogados
Counsel to Linx
White & Case LLP
Pinheiro Neto Advogados
Counsel to Linx's independent committee and the independent members of the board of directors
Wald, Antunes, Vita e Blattner Advogados
Ulhôa Canto, Rezende e Guerra Advogados
Counsel to the fiscal committee
TozziniFreire Advogados
***
Colombia's Ecopetrol buys majority stake in ISA
Counsel to Ecopetrol
Baker McKenzie (Argentina)
Baker McKenzie (Chile)
Baker McKenzie (Colombia)
Estudio Echecopar member firm of Baker McKenzie International
Trench Rossi Watanabe 
Counsel to the Financiera de Desarrollo Nacional and the Colombian Ministry of Finance Public Credit
Claro & Cía
Payet, Rey, Cauvi, Pérez Abogados
Posse Herrera Ruiz
TozziniFreire Advogados
***
Corporate finance: ESG
***
Grupo Bimbo gets first sustainable financing
Counsel to Grupo Bimbo
Skadden, Arps, Slate, Meagher & Flom LLP
Galicia Abogados
Counsel to BBVA México, Banco Santander, Bank of America, Citibank, HSBC México, ING Bank, JPMorgan Chase & Co, Mizuho Bank and MUFG Bank
Davis Polk & Wardwell LLP
Ritch Mueller y Nicolau, SC
***
B3 makes US$700 million sustainability-linked bond offer 
Counsel to B3
Milbank
Pinheiro Guimarães
Counsel to Counsel to Bradesco BBI, Citigroup Global Markets, Itaú BBA, JP Morgan Securities, MUFG Securities Americas, Bank of America Securities, Banco Safra and Santander Investment Securities
Clifford Chance LLP
Machado Meyer Advogados
Counsel to Deutsche Bank
Holland & Knight LLP
***
CMI Energía makes Central America's largest green debt tap
Counsel to CMI Energía and Investment Energy Resources
In-house counsel to CMI Energía– Salomón Vaie, Rubén Contreras, María Fernanda Esquivel, Esteban de la Cruz, Javier Bauer, Karolina Barrantes and Nadia Arriaga
Clifford Chance LLP
Alta QIL+4 Abogados
Arias (Nicaragua)
BLP (Honduras)
Consortium Legal (Costa Rica)
Medina Garrigó
Counsel to WCG Energy
Graham Thompson Attorneys
Counsel to Citigroup Global Markets and JPMorgan Chase & Co
In-house counsel to Citigroup – Karin Herman Zachrisson and Katrina Youssef 
In-house counsel to JPMorgan Chase & Co – Lola Ogunmefun 
Simpson Thacher & Bartlett LLP
BLP (Costa Rica)
Consortium Legal (Guatemala)
Consortium Legal (Honduras)
***
Private equity
***
GIP buys largest private power generator in Mexico
Counsel to Global Infrastructure Partners (GIP)
Latham & Watkins LLP
Creel, García-Cuéllar, Aiza y Enriquez SC
Counsel to senior management team of Saavi Energía
Linklaters
Counsel to Actis 
Milbank 
Galicia Abogados 
***
KKR and Telefónica launch US$1 billion fibre optics venture in Chile
Counsel to KKR 
Simpson Thacher & Bartlett LLP
CMS Carey & Allende
Counsel to Telefónica
In-house to Telefónica Hispam - Diego Colchero
In-house counsel to Telefónica Chile - Gladys Fuentes Espinoza and Claudio Monasterio Rebolledo
Latham & Watkins LLP
Guerrero Olivos
***
Brazil's IG4 Capital acquires stake in Peruvian infrastructure group Aenza
Counsel to IG4 Capital
Shearman & Sterling LLP
Miranda & Amado
Counsel to Aenza
In-house counsel – Daniel Urbina
Simpson Thacher & Bartlett LLP
Hernández & Cía
Counsel to selling shareholders
Rubio Leguía Normand
***
Disputes
***
Facebook wins landmark Brazilian internet privacy case 
Counsel to Facebook
TozziniFreire Advogados
Eduardo Antônio Lucho Ferrão Advogados Associados
***
Colombia defeats billion-dollar ICSID claim by América Móvil
Counsel to Colombia
Dechert
Counsel to América Móvil
Freshfields Bruckhaus Deringer LLP
Aziz & Kaye
Lloreda Camacho & Co
***
Aenza agrees plea deal with Peruvian authorities
Counsel to Aenza
In-house counsel - Renzo Arboccó, Daniel Urbina and Ana Ferrucci Greco
Hernández & Cía
***
Regulatory
***
Brazil raises US$8.5 billion in Latin America's largest 5G auction
Counsel to TIM Brasil
Mundie e Advogados
Counsel to Claro Brasil
Maciel Rocha Advogados
Counsel to Telefónica Brasil
Pereira Neto | Macedo Advogados
Rolim, Viotti, Goulart, Cardoso Advogados
Counsel to Algar Telecom
Demarest Advogados
Counsel to Winity Telecom
Lefosse 
Mattos Filho, Veiga Filho, Marrey Jr e Quiroga Advogados
Counsel to Highline
Stocche Forbes
Counsel to Unifique Telecomunicações
Felsberg Advogados
***
AstraZeneca covid-19 vaccination gains licensing agreements in Brazil
Counsel to AstraZeneca
Trench Rossi Watanabe
***
IRSA gets approval for Buenos Aires urban development project
Counsel to IRSA
Zang, Bergel & Viñes Abogados
***
Restructuring
***
Avianca emerges from Chapter 11 process
Counsel to Avianca
In-house counsel - Richard Galindo, Diana Rivas, Natalia Gutierrez de Larrauri, Catalina Perdomo Ortega, Juan Esteban, Pamela Rodriguez Tierradentro and Maria Marquez Montoya
Milbank
Smith, Gambrell & Russell
BLP (Costa Rica)
BLP (El Salvador)
BLP (Guatemala)
BLP (Honduras)
Gómez-Pinzón
Jones Day (Mexico)
Morgan & Morgan
Rodrigo, Elías & Medrano Abogados
Urdaneta Vélez Pearl & Abdallah Abogados
Counsel to Glas Americas
Perkins Coie LLP
Aguilar Castillo Love (Costa Rica)
Aguilar Castillo Love (El Salvador)
Alta Melara & Asociados
Alta QIL+4 Abogados
Galicia Abogados
Guyer & Regules
Philippi Prietocarrizosa Ferrero DU & Uría (Chile)
Philippi Prietocarrizosa Ferrero DU & Uría (Colombia)
Philippi Prietocarrizosa Ferrero DU & Uría (Peru)
Stocche Forbes 
Higgs & Johnson
Conyers Dill & Pearman
Counsel to Advent International Colombia 
Weil, Gotshal & Manges LLP
Counsel to Citibank, Grupo Aval Acciones y Valores and GE Capital Aviation Services (now AerCap)
Latham & Watkins LLP
Counsel to Grupo Aval and Banco de Bogotá
DLA Piper Martínez Beltrán
Counsel to Crédit Agricole CIB and Norddeutsche Landesbank Girozentrale (New York Branch) 
Pillsbury Winthrop Shaw Pittman LLP
Counsel to USAVflow 
Kasowitz Benson Torres LLP
Counsel to USAV secured lenders 
White & Case LLP
Hinckley, Allen & Snyder
Counsel to US Bank National Association 
Dorsey & Whitney
Counsel to Ad Hoc Group of 2023 Noteholders
Paul Hastings LLP 
Dechert
Skadden, Arps, Slate, Meagher & Flom LLP
Counsel to Kingsland Holdings
Cadwalader, Wickersham & Taft LLP
Counsel to Ad hoc group of investors
Davis Polk & Wardwell LLP 
Counsel to JPMorgan Chase & Co
Simpson Thacher & Bartlett LLP
Aguilar Castillo Love (Costa Rica)
Aguilar Castillo Love (El Salvador)
Counsel to Indenture trustee and DIP Agent
Pryor Cashman LLP
Counsel to the official committee of unsecured creditors of Avianca
Willkie Farr & Gallagher LLP
Morrison & Foerster LLP
***
Chilean car importer completes pre-packaged Chapter 11
Counsel to Automotores Gildemeister
Cleary Gottlieb Steen & Hamilton LLP
Cariola, Díez, Pérez-Cotapos
EY Law (Costa Rica)
Hughes & Hughes
Rebaza, Alcázar & De Las Casas
Veirano Advogados
Counsel to the ad hoc group of consenting noteholders
Dechert
Alta Batalla
Ferrere (Uruguay)
Hernández & Cía
Pinheiro Neto Advogados
Prieto
Counsel to TMF Group
Ross PLLC
Aguilar Castillo Love (Costa Rica)
Baraona Marshall & Cia
De Bracamonte, Haaker & Castellares
Guyer & Regules
Ramos e Zuanon Advogados
***
Raízen and Biosev finalise tie-up with US$1.3 billion restructuring
Counsel to Biosev, Hédera and the Louis Dreyfus Company
Norton Rose Fulbright
Franco Leutewiler Henriques Advogados
Mattos Filho, Veiga Filho, Marrey Jr e Quiroga Advogados
Counsel to Banco BNP Paribas, Banco Bradesco, Banco BTG Pactual, Banco do Brasil, Banco Santander, Banco Votorantim, Itaú Unibanco, ING Bank and Coöperatieve Rabobank 
White & Case LLP
Pinheiro Guimarães
Loyens & Loeff
Counsel to ABN AMRO Bank, Coöperatieve Rabobank, ING Bank, Crédit Agricole CIB, Natixis and Société Générale
Mayer Brown LLP
Tauil & Chequer Advogados in association with Mayer Brown
Counsel to TMF Group
Mayer Brown LLP
Pinheiro Guimarães
Loyens & Loeff
Pestalozzi Attorneys at Law