Deal of the Year: the shortlists for disputes, regulatory and restructuring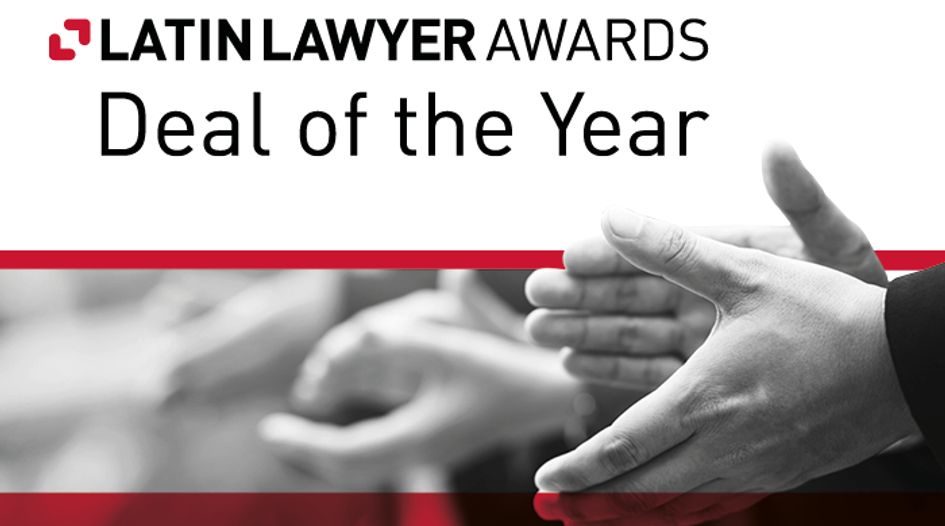 Latin Lawyer is delighted to announce the deals shortlisted for the disputes, regulatory and restructuring categories of our 15th annual Deal of the Year Awards.
In each category, three deals have been shortlisted. They are listed below.  
The winners will be announced in our daily newsletter in mid-May.
A big congratulations from Latin Lawyer to everyone who took part in these leading deals.
***
Disputes
***
Colombian Council of State annuls award in CUC-DTC v Gecelca 3
Counsel to Gecelca
Philippi, Prietocarrizosa Ferrero DU & Uría (Colombia)
Counsel to China United Engineering Corporation
Baker McKenzie LLP
***
Barra Energia and Enauta Energia v Dommo Energia
Counsel to Barra Energia
Tauil & Chequer Advogados in association with Mayer Brown
Quinn Emanuel Urquhart & Sullivan LLP
Sidley Austin LLP
Counsel to Enauta Energia
Chaffetz Lindsey LLP
Wikborg Rein Advokatfirma
Basílio Advogados
Mattos Filho, Veiga Filho, Marrey Jr e Quiroga Advogados
Counsel to Dommo Energia
Pinheiro Guimarães
Counsel to ANP
Procuradoria-Geral da Agência Nacional do Petróleo
***
Tribunal
Jan Paulsson (Switzerland/France) (chair)
Francisco González de Cossío (Mexico) (appointed by Lidercón)
Hugo Perezcano Diaz (Mexico) (appointed by Peru)
Counsel to Lidercón
Hogan Lovells LLP
Counsel to Peru
Stanimir A Alexandrov PLLC
Sidley Austin LLP
***
Regulatory
***
Chilean Central Bank's covid-19 credit programme
Counsel to Central Bank
In-house - Juan Pablo Araya, Mauricio Álvarez and Andrés Söchting
Garrigues (Chile)
***
Mexico City International Airport wins reversal of COFECE decision on slots regulation
Counsel to Mexico City International Airport (AICM)
Greenberg Traurig LLP
Counsel to Aeroméxico
White & Case SC
Counsel to Volaris
Von Wobeser y Sierra SC
Counsel to COFECE
Fidel Sierra Aranda, Mirna Mustieles and Jorge García
***
Uber wins unfair competition claim before Peru's INDECOPI
Counsel to Uber
Philippi Prietocarrizosa Ferrero DU & Uría (Peru)
***
Restructuring
***
Argentina restructures US$65 billion of foreign debt
Counsel to Argentina
Cleary Gottlieb Steen & Hamilton LLP
Counsel to Bank of America Securities and HSBC Securities
In-house counsel to Bank of America - Ria Dutta
In-house counsel to HSBC - Alanna Chang
Shearman & Sterling LLP
Bruchou, Fernández Madero & Lombardi
Counsel to Argentina Creditor Committee
Clifford Chance LLP
Pérez Alati, Grondona, Benites & Arntsen (PAGBAM)
Counsel to The Ad Hoc Group of Argentina Exchange Bondholders
Quinn Emanuel Urquhart & Sullivan LLP
Counsel to Ad Hoc Argentine Bondholder Group
White & Case LLP
***
Judicial reorganisation of Odebrecht and non-operating subsidiaries
Counsel to Odebrecht Group
Cleary Gottlieb Steen & Hamilton LLP
E.Munhoz Advogados 
RK Partners
Counsel to Itaú Unibanco and Banco Bradesco
Machado Meyer Advogados
Counsel to bondholders
Pinheiro Neto Advogados
Counsel to Natixis, BBVA, Sumitomo Mitsui, MUFG Bank and Intesa Sanpaolo
Veirano Advogados
Counsel to Banco Santander (Brasil)
Lefosse Advogados
Counsel to The Bank of New York Mellon, Deutsche Bank, ING Bank, Itaú Corpbanca, COFIDE Banco de Desarrollo del Perú and Deriblok
Tauil & Chequer in Association with Mayer Brown*
Counsel to Caixa Econômica Federal
Felsberg Advogados
Counsel to Alvarez & Marshal
Motta Fernandes Advogados
*Former partner Leonardo Morato has since launched LMorato Advogados.
***
Ecuador completes US$17.4 billion debt restructuring
Counsel to the Republic of Ecuador
Hogan Lovells LLP
Hogan Lovells (Mexico)
Counsel to Citigroup Global Markets
Cleary Gottlieb Steen & Hamilton LLP
Pérez Bustamante & Ponce
Counsel to The New York Bank of Mellon
Perkins Coie LLP
Counsel to the Ad Hoc Ecuador Bondholder Group 
White & Case LLP