LACCA Awards – last chance to vote!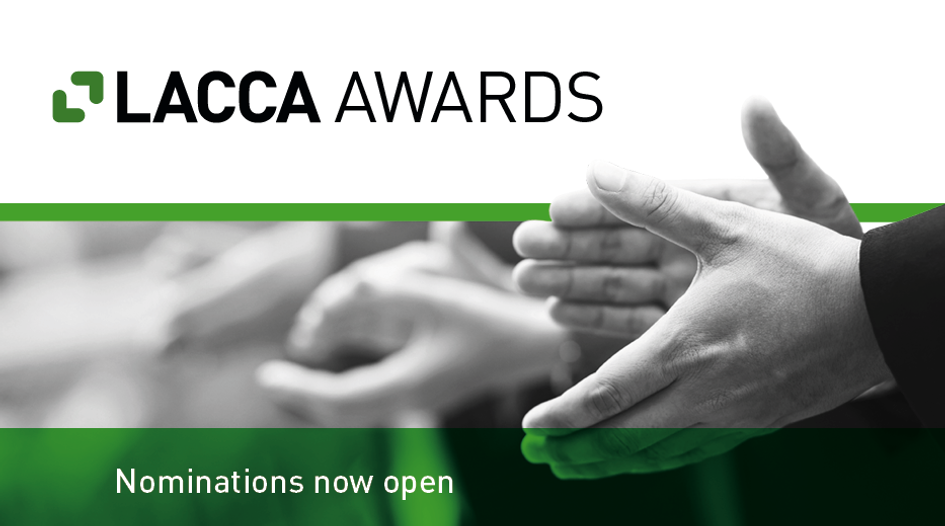 The Latin American Corporate Counsel Association will honour the very best of the regional in-house community this year during the Latin Lawyer Deal of the Year awards ceremony. Nominate your favourite general counsel and legal departments.
Every year Latin Lawyer & LACCA give awards to general counsel and law firms advising across Latin America.
We are calling on our members and other legal professionals to identify those who deserve to be considered for the awards.
The deadline for nominations is the 28 February. 
Members and readers can nominate an individual or team for consideration in the following categories:

General Counsel of the Year (individual)
Regional Team of the Year (team)
Please feel free to suggest more than one person or team in a category. Nominees can be based anywhere, but must work predominantly within Latin America.

Please click here to make your nominations, or  email us for more information.

The ceremony will be held in São Paulo in early May, after LACCA's annual regional meeting which will be held that same day. We hope to see you there!

The categories in full:

General Counsel of the Year (individual)
The LACCA General Counsel of the Year represents the very best of what the profession stands for. We will look for legal excellence as a baseline, alongside the ability to handle complex issues across borders, contribute definitively and amply to the company's business strategy, and develop strategies to do so in as efficient a way as possible.

Regional Team of the Year (team)                                                                                              
The LACCA Regional Team of the Year Award recognises an in-house team that works exceptionally well across borders in Latin America. We will be looking for evidence of communal efficiency and innovation, as well as the implementation of core development strategies around the region.