Who are LACCA's Thought Leaders 2024?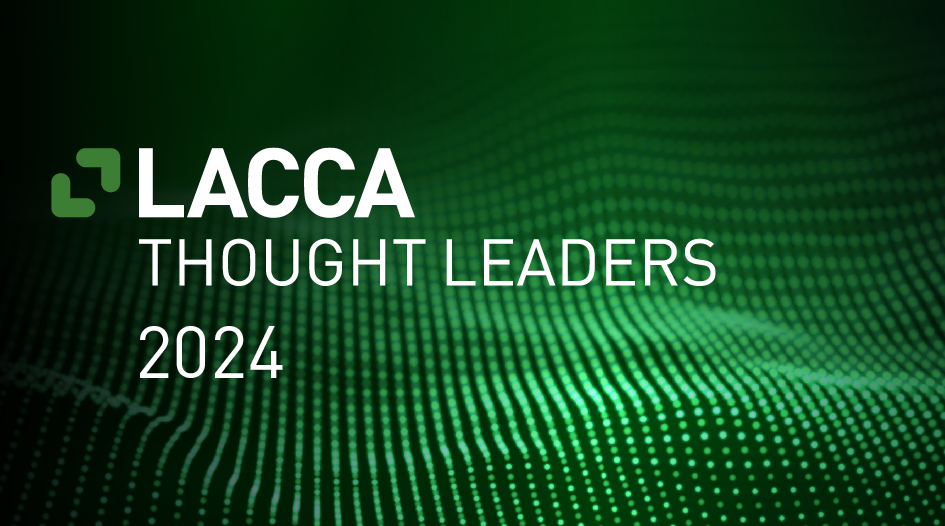 The results for this year's LACCA Thought Leaders are in. We take a look at which private practice lawyers have been voted as the very best in their field by Latin America's in-house community.
The Latin American Corporate Counsel Association (LACCA) has launched the latest edition of Thought Leaders – a year-long research project that brings together the insight, expertise and mastery of some of the region's best lawyers in a single publication.
The frequent feedback from LACCA members at meetings and elsewhere is that finding trustworthy, high quality legal counsel in Latin America can still be a challenge. As a result, in 2012 LACCA launched its Approved list – comprising lawyers from private practice who have been personally recommended by our members, the top general counsel from around the region. Thought Leaders goes a step further: launched in 2018, it identifies the Approved lawyers with the highest number of nominations from corporate counsel and other market sources (equivalent to the top 20% of Approved lawyers).
Having counted hundreds of votes from LACCA members across the region, the results show that 42% of this year's Thought Leaders are from Brazil (see graph one). Brazilian lawyer Frederico Bopp Dieterich of Azevedo Sette Advogados retains the top spot for most votes in total and comes recommended for his administrative law prowess. Lefosse's Christiano Rehder continues to be a popular choice among GCs for corporate and M&A, while Felipe Noronha Ferenzini from Trench Rossi Watanabe is hailed by local GCs for his anti-corruption advice.
In Argentina, the country with the second largest share of Thought Leaders, Diego Fernández of Marval O'Farrell Mairal received the most votes in both intellectual property and data, technology and privacy law. He is followed by Joaquín Martinez from Abeledo Gottheil Abogados – LACCA members' top pick for corporate and M&A in Argentina. 
Alfredo Montaner of Cariola, Díez, Pérez-Cotapos gathered the most votes in Chile and comes recommended for intellectual property law. Juan Tagle of Prieto brings home the second highest number of votes in the jurisdiction and is listed for his corporate and M&A know-how. José Tomás Errázuriz of Barros & Errázuriz Abogados Abogados and Cristóbal Eyzaguirre of Claro & Cía were also popular for antitrust and competition and banking and finance respectively.
Consistent with last year's results, Colombia has the fourth largest share of Thought Leaders. Daniel Posse from Posse Herrera Ruiz brings home the most votes in both arbitration and litigation. He is followed by Héctor Hernández of Philippi Prietocarrizosa Ferrero DU & Uría (Colombia) who comes recommended for his labour expertise.
In Mexico, Sánchez Devanny's Alfredo Kupfer tops the table again with the most votes for labour law. Alejandro Montes Jacob of EC Rubio, Ricardo Calderón of Ritch Mueller y Nicolau, SC and Pablo Mijares of Mijares, Angoitia, Cortés y Fuentes SC follow with the highest share of recommendations for corporate and M&A law. 
Lawyers specialised in corporate and M&A matters feature most prominently in LACCA's research this year, reflecting the consistent demand for counsel in this field. They represent just under 23% of the total number of Thought Leaders.
LACCA's results reveal that outside of Argentina and Mexico, Posse Herrera Ruiz's Jaime Herrera comes out on the top in Colombia, while  Jorge Luis Inchauste from Dentons Guevara & Gutiérrez earns the leading position in Bolivia. In Guatemala, Eduard Mayora of Mayora & Mayora SC received the most nominations.
Demand for banking and finance in the region also remains high and is a core source of work for many law firms in the region. As deals across the fintech and technology sectors as well as ESG-related financing transactions ramp up, so too does the search for reliable banking and finance counsel. Lawyers specialised in this area feature second most prominently this year, with almost 14% of the total votes.
Guilherme Forbes continues to be one of Latin America's most popular banking and finance lawyers – the Stocche Forbes partner has retained his spot at the top for several years. José Augusto Toledo of Clarity Law in Guatemala continues to be a favourite among GC's too, while Bruchou & Funes de Rioja's Hugo Bruzone and Marval O'Farrell & Mairal's Roberto Silva share the most votes in Argentina. Javier Domínguez Torrado from Ritch Mueller y Nicolau, SC and José Victor Torres of Gónzalez Calvillo, SC also tie for first place in Mexico.
Given the complexities of Latin America's tax landscape, in-house teams rely heavily on the help of external counsel. Many countries across the region have witnessed large-scale fiscal reforms and provisions since 2022- including Chile, Mexico, Peru, Colombia, Argentina and Uruguay- with more expected in the coming year from the likes of Brazil. Under these circumstances, it is not surprising that GCs are becoming increasingly reliant on their most trusted advisers.
In Brazil, this year's tax lawyer with the most votes was Telirio Saraiva of Trench Rossi Watanabe and Andréa Caliento of Lefosse; Igor Nascimento de Souza of SouzaOkawa Advogados follows closely behind. Walter Keiniger of Marval O'Farrell Mairal takes the top spot in Argentina. Two lawyers tie as the region's most popular tax practitioners in Colombia: Juan Guillermo Ruiz of Posse Herrera Ruiz and Martín Acero of Philippi Prietocarrizosa Ferrero DU & Uria. Meanwhile, Garrigues' Oscar Ferrari brought home the most votes in Chile, while Alex Cordova of Peruvian firm Rodrigo, Elías & Medrano Abogados was the most popular in that jurisdiction. In Uruguay and Venezuela, Jónas Bergstein of Bergstein Abogados and Juan Carlos Garantón Blanco of Torres Plaz & Araujo received the highest votes in their respective countries.
For labour matters, Eduardo Soto from Brazil's Soto Frugis Advogados received the highest number of votes across the region. Mexico's Alfredo Kupfer of Sánchez Devanny followed closely behind with the most number of nominations from GCs in that jurisdiction. Héctor Hernández of Philippi Prietocarrizosa Ferrero DU & Uría (Colombia) and Mónica Pizarro of Estudio Echecopar a member firm of Baker & McKenzie International in Peru were listed among the most popular lawyers in their respective countries.
Litigation lawyers represent over 7% of this year's Thought Leaders. While this percentage may appear relatively small, litigation matters remain a key area of work outsourced by in-house legal teams to external counsel. This is true now more than ever; recent social and political unrest – especially in Ecuador, Guatemala and Peru– caused many countries to face significant challenges in 2023. As several countries across Latin America prepare for major elections in the coming months, further disruption is to be expected. Marcio de Souza Polto of Trench Rossi Watanabe ranks highest of all litigation lawyers in the region; in Colombia, Posse Herrera Ruiz's Daniel Posse won the most votes in this year's rankings. In Panama, Octavio Amat of Arias, Fábrega & Fábrega scored the highest votes in his jurisdiction. Two lawyers tie as the region's most popular litigation practitioners in Argentina and Venezuela: Carlos Ángel Ferrario of Zang, Bergel & Vines Abogados (Argentina) and Carlos Domínguez of Leĝa (Venezuela).
Brazil's Trench Rossi retains its spot at the top for another year with most Thought Leaders in the 2024 edition – 13 in total – before Argentina's Marval on nine. Posse Herrera Ruiz has the most nominations in Colombia, while Carey tops the charts in Chile. 
A full list of this year's Thought Leaders can be found here.