Peru's draft arbitration law risks "chaos" in domestic cases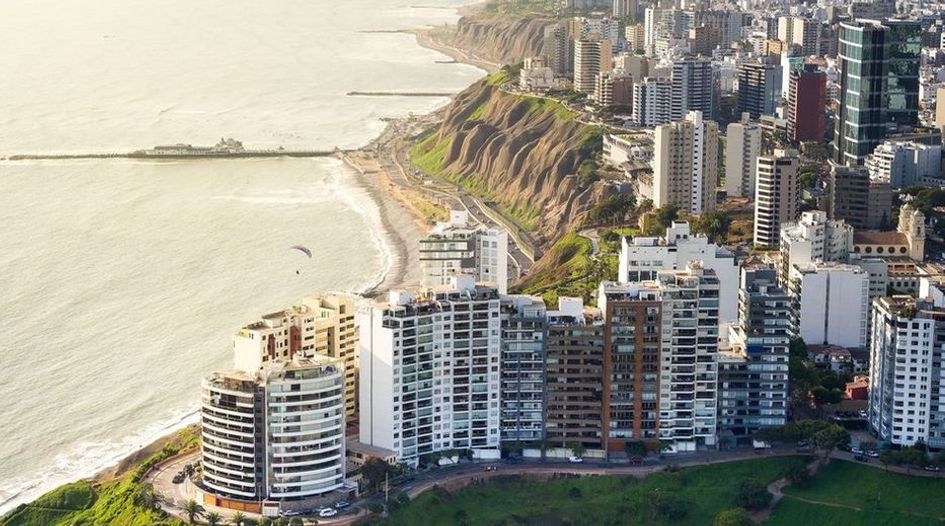 Peru is considering a bill that will require all arbitrators in domestic cases to have their legal qualifications certified by a state regulator or face removal from tribunals – a move that practitioners warn will cause "chaos" and effectively bar foreign lawyers from hearing those disputes.
The bill was introduced to Peru's Congress on 17 February. If passed, it would amend the Peruvian arbitration law to include a requirement that arbitration centres and ad hoc tribunals must ensure that all arbitrators hearing domestic cases have had their qualifications certified by the state education regulator, SUNEDU, within 30 days.
Any arbitrators that cannot comply with this requirement would be removed from those tribunals.
"This would create chaos," says Pablo Mori Bregante, a Peruvian counsel at US boutique GST, when speaking to Latin Lawyer's sister publication Global Arbitration Review. He says the Arbitration Center of the Lima Chamber of Commerce has 116 registered foreign arbitrators – if even half of those arbitrators are currently sitting it could mean more than 50 cases will be suspended.
Peru's "nerve-frazzling bureaucracy" means it can take between 6 to 12 months for SUNEDU to validate foreign degrees, says Mori Bregante, so it will be "impossible to meet the 30-day deadline." Going forward, he says "probably only a few foreign arbitrators will be willing to go through that process."
Mori Bregante says the bill would mean a "step back" for all the improvements arbitration has made in Peru. Foreign arbitrators have brought with them best international practices, he says, adding that without them parties would still be submitting documents in paper.
The bill does not apply to international cases seated in Peru, but domestic arbitration is a huge market in the country and frequently attracts high-profile foreign arbitrators. This is because Peruvian law requires that all contractual disputes involving state bodies are heard in arbitration rather than the courts.
According to the text of the bill, SUNEDU recognition is necessary for domestic cases as arbitrators need extensive knowledge of national legislation to issue awards conforming with the law. It also says this requirement will help prevent corruption in tribunals.
The bill cites the Lava Jato corruption scandal, which saw Brazilian construction group Odebrecht admit to bribing governments across Latin America. Several Peruvian presidents have been implicated and in 2019 14 local arbitrators were put in pre-trial detention for allegedly taking bribes from Odebrecht – although several were released on appeal.
But Mori Bregante says that reducing the number of eligible arbitrators will "promote corruption" and after Lava Jato "we need more arbitrators, not less".
SUNEDU validation does not show a lawyer knows local law but only that his qualifications meet the standard the regulator approves, he says. Regardless, he says the idea that arbitrators need to know the local law is incorrect. "Under this logic," arbitrators could not rule in investment disputes that require analysis of several local laws.
Carlos Matheus López of CML Arbitration in Lima agrees that if passed the bill would "discourage, or even bar, the participation of foreign arbitrators in Peru."
Whatever its "well-intentioned objectives" he says the bill shows a "serious ignorance" of arbitration and Peru's arbitration law. Making arbitrators have their qualifications approved by SUNEDU would move the arbitration law "away from the homogeneous global regulation promoted by the United Nations Commission on International Trade Law (UNCITRAL) Model Law."
The bill also clashes with other articles in the arbitration law stating that a lawyer's nationality should not obstruct them from acting as an arbitrator, says Matheus López. He adds that the bill will ultimately be "ineffective" as the arbitration law allows parties to agree on appointing non-lawyers to tribunals.
International Court of Arbitration president Alexis Mourre, who last year sat on a domestic tribunal that awarded an Odebrecht subsidiary damages against the municipality of Lima, says to Global Arbitration Review that the bill is "inconsistent with the parties' right to select the arbitrators of their choice."
"It also ignores the fact that in many instances, including in domestic cases having an element of internationality," parties choose a foreign arbitrator for the sake of neutrality and to avoid the conflicts of interest that a "narrow arbitrators' pool inevitably generates."
If passed, Mourre says the bill could "significantly damage Peru as a safe arbitration venue, both for domestic and international cases."
This is not the first time in recent years a bill proposed in Peru's Congress has provoked a backlash from the international arbitration community.
In 2017, Congress debated a bill that could have barred institutions such as the International Chamber of Commerce, International Centre for Dispute Resolution and London Court of International Arbitration administering cases in the country as it clashed with rules allowing them to choose arbitrators when the parties cannot agree. That bill did not pass.
This article was first published by Latin Lawyer's sister publication Global Arbitration Review on 25 February.