Deadline extended for Individual Awards nominations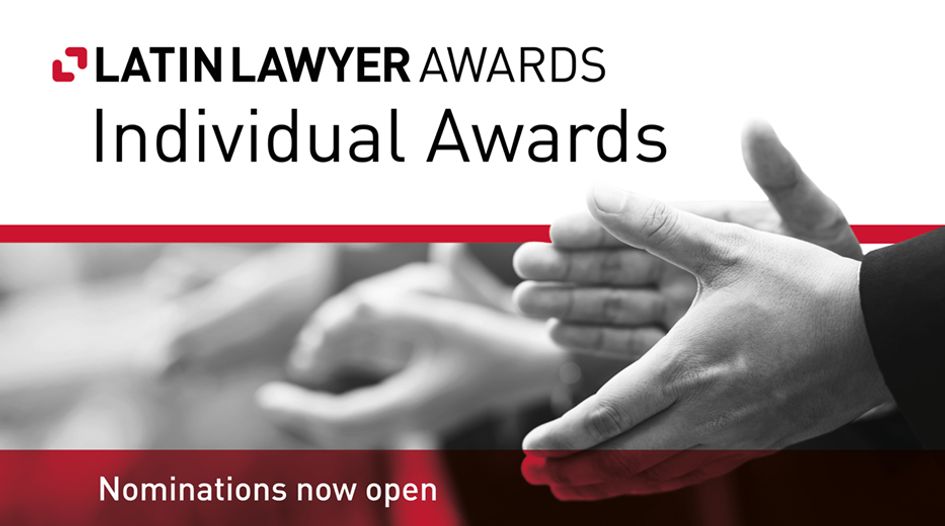 Every year, we recognise the achievements of leading lawyers from across Latin America in areas such as law firm leadership, diversity and pro bono at our awards ceremony, which will take place in São Paulo in May 2022 and is held in aid of pro bono clearing houses from across the region.
The new deadline for nominations is Monday 3 January. We will announce the winners in our daily news briefing in early 2022.
To put forward an individual or initiative for consideration for any of the awards described below, simply click on the category to be taken to the relevant survey.
We will present the following awards:
We will also give awards to pro bono and diversity initiatives:
Diversity Initiative of the Year Award, recognising law firms' innovative efforts to promote diversity and equal opportunity, both in their firms and in the wider legal market. We give precedence to initiatives that use innovative and forward-thinking measures to bring about a big impact in the promotion of diversity, setting precedents for others to follow. The initiative must be able to demonstrate a significant, positive impact on the promotion of equal opportunities within the legal industry.
Pro Bono Project of the Year Award, in recognition of a pro bono case or initiative that brings access to justice to those who don't have the means to pay for it. For example, by providing free legal services to the poor or to the organisations that assist them, or working on matters of public interest on a pro bono basis. We give precedence to those cases or initiatives that have a big impact, bettering the lives of many people or establishing new precedents for others to follow.
Pro Bono Law Firm of the Year Award, in recognition of a law firm's outstanding commitment to building an institutional pro bono practice. This award is intended to recognise law firms that have implemented internal structures to ensure pro bono work is carried out, for example by having a pro bono coordinator or by making it mandatory for each lawyer to do a certain number of pro bono hours per year. We recognise firms that have been able to make a significant contribution to helping the poor and disadvantaged as a result of having these structures in place.
The Law Firm Leader and Specialist Law Firm Leader Awards are presented to leaders of law firms in Latin America practising local law. Each year, we present two Lifetime Achievement Awards to private practice practitioners in Latin America or from the region's international legal community. Anyone can make nominations for the diversity initiative and pro bono project awards, providing there is a strong link to Latin America and lawyers practising local law in the region are involved. The Pro Bono Law Firm of the Year Award will be presented to a law firm in Latin America practising local law.
We accept self-nominations. Firms can also nominate each other. Each nominee can make one nomination per category. For more information, contact either [email protected] or [email protected].
The nomination period for our Deal of the Year Awards will open in January. Find out more at our website's awards page.