Deal Tracker: Which were the busiest firms in 2022?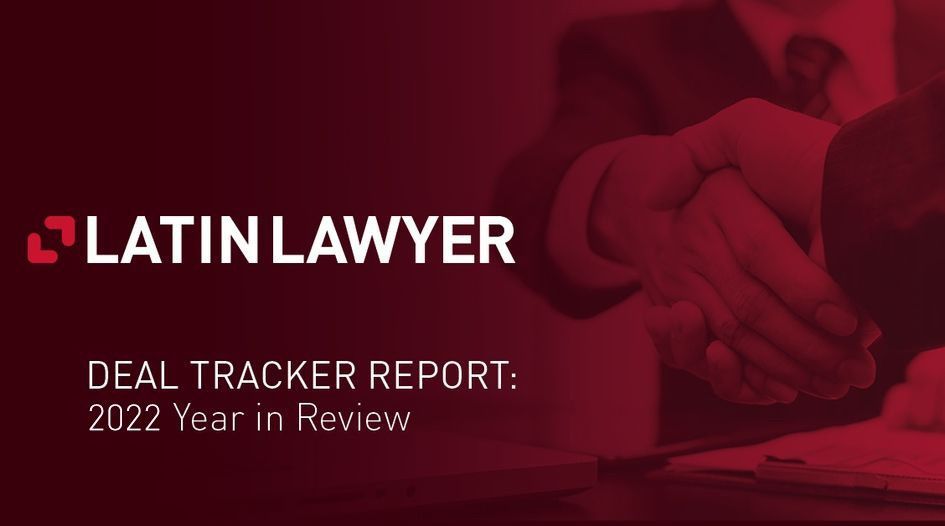 Latin Lawyer presents its latest Deal Tracker Report, providing a unique overview of transactional activity in Latin America throughout 2022. Read on to find out which firms worked on the most transactions last year, and where the majority of the work was concentrated.
According to Latin Lawyer's Deal Tracker, law firms completed 3042 unique transactions in Latin America throughout 2022. M&A and debt capital markets continued to capture the highest volume of work, carrying on trends from 2021. Those two areas represented 75% of all the deals completed last year, with M&A making up over half that figure – at 39%.
The report is based on data submitted to Latin Lawyer's Deal Tracker tool in the five main transactional areas: M&A, banking and finance, debt and equity capital markets, project finance and restructuring. Download the full report here.
The figures from 2022 demonstrate that Latin America completed an impressive year for transactional work in the face of major macroeconomic and geopolitical hurdles. The region completed one of its busiest-ever years for elections –  and one of the most polemic – as several traditionally right-wing jurisdictions veered left. Divisive political changes, such as Chile's constitutional reform and Colombia's tax overhaul, contributed to investor uncertainty. Those factors were paired with external influences, such as rising inflation, high interest rates and global recession exacerbated by the Russia-Ukraine war which began in early 2022. "Major macro and geopolitical factors impacting dealmaking around the world, such as inflation, war, equity re-pricing and credit tightening, disrupted transactional activity in Latin America last year," summarised Todd Crider, head of the Latin America practice at Simpson Thacher & Bartlett LLP.
In spite of those challenges, law firms in Latin America reported more deals in 2022 than the previous year. This presents a trend of heightened deal activity in the region and reflects a strengthening economic recovery following the covid-19 pandemic, as well as concentrated growth in certain areas of the economy. Among standout trends, the region's transition to a green energy matrix sparked an influx of renewables deals, while nearshoring took off in Mexico as global conflict incentivised US investors to move production closer to home. Socio-political uncertainty fuelled more strategic M&A work too, including divestments, while several companies turned to the debt capital markets as an alternative form of raising capital amid soaring interest rates and inflation.
According to Deal Tracker, Brazil's Machado Meyer Advogados worked on the highest number of transactions throughout 2022 – with a total of 262 deals reported to Latin Lawyer throughout the year. This consolidated the firm's position as the busiest outfit in the region, with the firm already having led the way in the first two quarters. Brazilian firms Mattos Filho, Pinheiro Neto Advogados and Cescon, Barrieu, Flesch & Barreto Advogados followed as the next most active firms in the region.
Outside of Brazil, Argentina's TCA Tanoira Cassagne was the next busiest outfit in the region, having reported a total of 87 transactions throughout 2022.
For a jurisdictional breakdown of transactional trends in the region, read the full report here.
The below table shows the 25 busiest firms across the region throughout 2022.
Elite firms Creel, García-Cuéllar, Aiza y Enríquez SC, Carey, Bruchou & Funes de Rioja and Galicia Abogados all featured among the top 25 busiest firms throughout 2022 too, according to Latin Lawyer's data.
The latest Deal Tracker Report is based on data submitted to our Deal Tracker tool by law firms across the region. It covers seven practice areas: M&A, banking and finance, debt and equity capital markets, project finance, funds and restructuring.
To see a country-by-country breakdown of which firms were the most active dealmakers in each jurisdiction, make sure download the full report here.