Deal Tracker: Which were the busiest firms in 2021?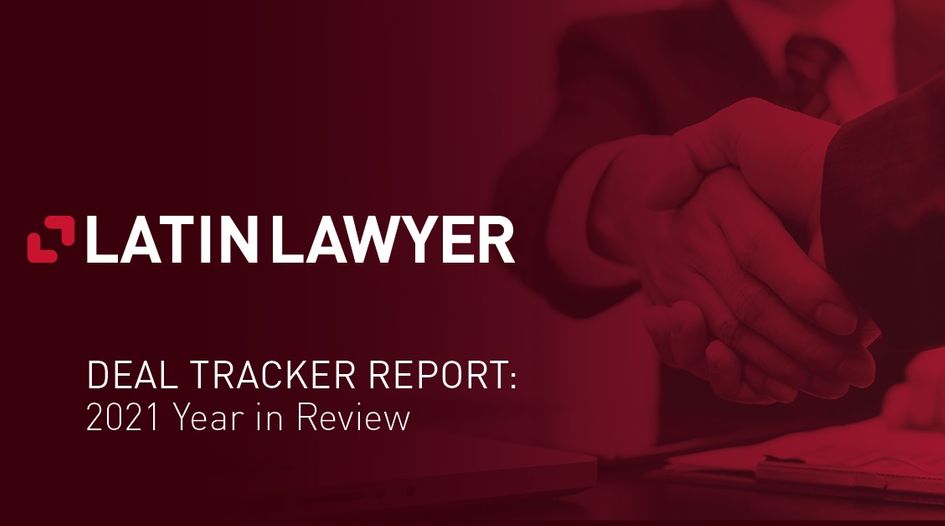 Latin Lawyer has published its first Deal Tracker Report – providing a unique overview of transactional activity in Latin America over the last year. Read on to find out which firms advised on the most transactions in some of the region's largest jurisdictions.
Latin Lawyer's Deal Tracker recorded 2066 unique transactions throughout 2021 in Latin America.
M&A and debt capital markets deals made up nearly 70% of all deals in the past year, with M&A representing the largest share – 47%.  
The report is based on data submitted to Latin Lawyer's Deal Tracker tool by law firms across five practice areas: M&A, banking and finance, debt and equity capital markets, project finance and restructuring. Download the full report here.
The full report analyses dealmaking and market developments over 2020 and 2021 in the region's six largest jurisdictions – Argentina, Brazil, Chile, Colombia, Mexico and Peru. It shows that the number of transactions across Latin America slowed down in 2020 and early 2021 due to increased political uncertainty and uneven responses to the pandemic. Despite this, resilience and growth became evident in the largest economies in the region during the second half of 2021 as deal activity began to rise. While the pandemic aggravated underlying crises in many jurisdictions, it also pushed investors to capitalise on the increased digitalisation of the region's economies, with higher levels of activity across the technology, healthcare and online retail sectors. New infrastructure and energy packages adopted during the pandemic also kept local firms busy, as did a rise in ESG-related work.
According to the Deal Tracker, Brazilian firm Machado Meyer Advogados worked on more transactions than any other Latin American law firm in 2021 – advising on 198 unique mandates within the five categories tracked by the tool.
It was followed by local firms Mattos Filho, Veiga Filho, Marrey Jr e Quiroga Advogados, Pinheiro Neto Advogados and Lefosse.
Across other jurisdictions, Argentina's Tanoira Cassagne Abogados made it into the top 10 busiest law firms, with 48 transactions.
Miranda & Amado from Peru, Argentina's Bruchou, Fernández Madero & Lombardi, Carey in Chile and Galicia Abogados from Mexico were all among the 20 most active dealmakers in Latin America throughout 2021, according to information sent to Latin Lawyer's Deal Tracker tool.
For more exhaustive lists of how many transactions firms worked on in each of the six jurisdictions analysed, please download the full report.