Deal of the Year: the shortlists for M&A, ESG and private equity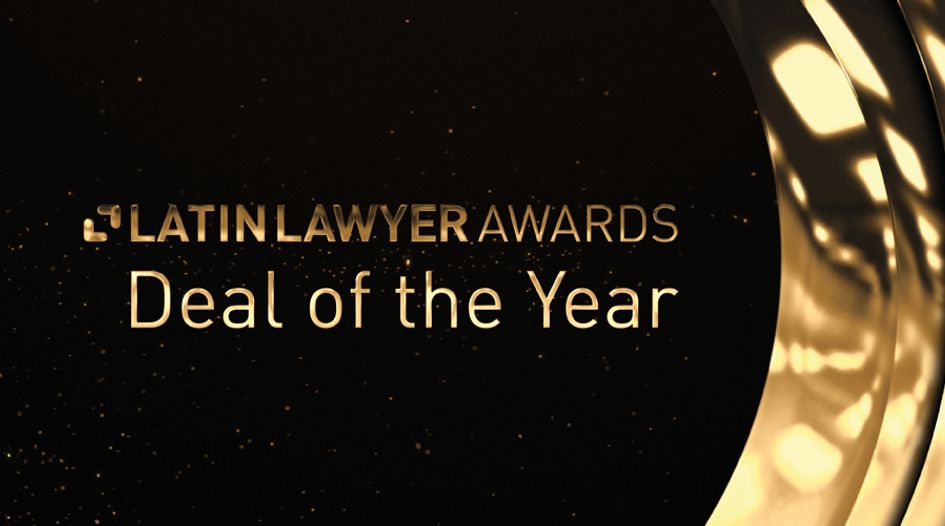 Latin Lawyer is delighted to announce the deals shortlisted for the private and public M&A, ESG and private equity categories of our 17th annual Deal of the Year Awards.
Listed below are the three deals that have been shortlisted in each category.
The winners will be announced on the night of our charity awards ceremony at the Hotel Unique in São Paulo on Thursday 11 May.
The dinner is being held in aid of two of the region's pro bono clearinghouses. More information and tickets are available here.
Congratulations to all those involved in these transactions.
The shortlists for the disputes, regulatory and restructuring categories can be seen here, whilst the shortlisted deals for the capital markets, banking and finance and project finance categories are available here.
***
Mergers & Acquisitions: private companies
***
GIP buys LatAm renewables group Atlas from Actis
Counsel to Global Infrastructure Partners (GIP)
In-house counsel - Julie Ashworth and Marissa Marco 
Latham & Watkins LLP 
Machado Meyer Advogados 
Morales & Besa 
Galicia Abogados 
Posadas 
Counsel to Actis 
Skadden, Arps, Slate, Meagher & Flom LLP 
Pérez-Llorca 
Mattos Filho 
Claro & Cía 
Mijares, Angoitia, Cortés y Fuentes SC 
Ferrere (Uruguay) 
***
Advent buys remaining stake in Argentina's Prisma
Counsel to Advent 
Baker McKenzie LLP 
Baker McKenzie (Argentina) 
Counsel to Prisma Medios de Pago and Visa Internacional, Banco Santander Río, Banco de Galicia y Buenos Aires, Banco BBVA Argentina, Banco Macro, Banco de la Provincia de Buenos Aires, HSBC Bank Argentina, Industrial and Commercial Bank of China (Argentina), Banco Patagonia, Nuevo Banco de Santa Fe, Banco Itaú Argentina, Banco Comafi, Banco de la Nación Argentina, Banco Credicoop and Citibank 
In-house counsel to Prisma Medios de Pago - Juan Cruz Alvarez and Eliana Tylkovitch  
Covington & Burling LLP 
Beccar Varela 
***
US investor becomes major shareholder in Botafogo football club with SAF structure 
Counsel to John Textor 
Campos Mello Advogados in cooperation with DLA Piper 
Counsel to Botafogo de Futebol e Regatas 
BMA Advogados  
***
Mergers & Acquisitions: public companies
***
Univision and Televisa form largest Spanish-language media group 
For the acquisition 
Counsel to Univision 
In-house counsel – Amy Tenbrink 
Paul, Weiss, Rifkind, Wharton & Garrison LLP 
Galicia Abogados 
Counsel to Televisa 
In-house counsel – Luis Alejandro Bustos, Armando Martínez, Nemer Farjat, Javier Luevanos, Liliana Martínez and Francisco Fernández 
Wachtell, Lipton, Rosen & Katz LLP  
Mijares, Angoitia, Cortés y Fuentes SC 
For antitrust matters 
Counsel to Univision 
Covington & Burling LLP 
Galicia Abogados 
Counsel to Televisa 
In-house counsel – Luis Alejandro Bustos, Armando Martínez, Jesus Araujo, Nemer Farjat, Javier Luevanos and Liliana Martínez 
Pillsbury Winthrop Shaw Pittman 
Mijares, Angoitia, Cortés y Fuentes SC 
For the equity investment   
Counsel to Softbank  
In-house counsel – Stephen Pelliccia and Stephen Lam 
Cleary Gottlieb Steen & Hamilton LLP 
Galicia Abogados 
Counsel to Google
Cleary Gottlieb Steen & Hamilton LLP 
Counsel to The Raine Group 
Pillsbury Winthrop Shaw Pittman 
***
Hapvida and Notre Dame US$21 billion merger in Brazil
Counsel to Hapvida 
Madrona Fialho Advogados 
Pinheiro Neto Advogados 
Counsel to Notre Dame 
Mello Torres
Lefosse  
Mattos Filho 
***
Brazilian air mobility company merges with US SPAC
In the SPAC 
Counsel to Embraer 
Skadden, Arps, Slate, Meagher & Flom LLP 
Mattos Filho 
Counsel to Zanite 
White & Case LLP 
White & Case SC  
In the PIPE 
Counsel to Banco Bradesco 
Cescon, Barrieu, Flesch & Barreto Advogados 
***
Corporate finance: ESG
***
Brazilian water company BRK issues LatAm's first blue bonds
Counsel to BRK 
Mattos Filho 
Counsel to BTG Pactual  
Machado Meyer Advogados
***
The Central America Bottling Corporation (CBC) SLB issuance and tender offer
Counsel to CBC 
In-house counsel - Oscar Arroyo Arzú  
Hogan Lovells LLP 
Walkers  
AVL Abogados  
Benjamín Valdez & Asociados  
Palacios & Asociados/Sercomi
Bufete Forlar Abogados   
DunnCox  
Consortium Legal (Nicaragua) 
Fabrega Molino  
Rodrigo, Elías & Medrano Abogados 
Pietrantoni Mendez & Alvarez LLC  
Guyer & Regules 
Counsel to Citigroup Global Markets and JP Morgan Securities 
Shearman & Sterling LLP 
Uría Menéndez 
Harneys
Alta QIL+4 Abogados 
***
Chile issues world's first sovereign sustainability-linked bonds
Counsel to the Republic of Chile 
Linklaters 
Morales & Besa 
Counsel to BNP Paribas, Crédit Agricole and Société Générale 
Cleary Gottlieb Steen & Hamilton LLP 
Garrigues (Chile) 
***
Private equity
***
Several firms help Chile's GNL Quintero get new owners 
Counsel to EIG 
White & Case LLP 
Counsel to Fluxys 
Linklaters 
Barros & Errázuriz Abogados 
Counsel to EIG and Fluxys 
Guerrero Olivos 
Counsel to OMERS 
Milbank 
Carey 
Fischer & Cía 
Counsel to Enagás 
Baker McKenzie LLP 
Baker McKenzie (Chile)
Counsel to BNP Paribas 
Latham & Watkins LLP 
Claro & Cía 
***
KKR and Telefónica set up Colombian fibre optic project 
Counsel to Kohlberg Kravis Roberts (KKR) 
Simpson Thacher & Bartlett LLP 
Cuatrecasas
Gómez-Pinzón 
Counsel to Telefónica Colombia 
Latham & Watkins LLP
Brigard Urrutia 
***
Multiple firms steer Lumen's US$2.7 billion LatAm business sale
Counsel to Stonepeak Infrastructure 
Simpson Thacher & Bartlett LLP 
Marval O'Farrell Mairal  
Mattos Filho  
TozziniFreire Advogados
Barros & Errázuriz Abogados 
Gómez-Pinzón 
Consortium Legal (Costa Rica)   
Pérez Bustamante & Ponce (PBP)  
Creel, García-Cuéllar, Aiza y Enriquez SC 
Arias, Fábrega & Fábrega 
Rebaza, Alcázar & De Las Casas  
Guyer & Regules  
Travieso Evans Arria Rengel & Paz 
Counsel to AustralianSuper 
Skadden, Arps, Slate, Meagher & Flom LLP 
Counsel to Lumen
Jones Walker LLP
KLA Advogados
Miranda & Amado