Deal of the Year: the shortlists for M&A, ESG and private equity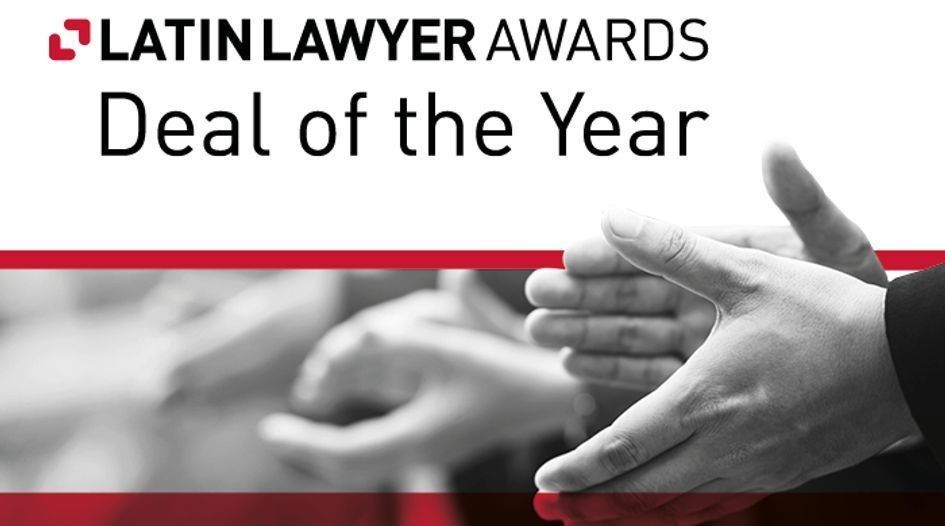 Latin Lawyer is delighted to announce the deals shortlisted for the private and public M&A, ESG and private equity categories of our 16th annual Deal of the Year Awards.
Listed below are the three deals that have been shortlisted in each category.
The winners will be announced on the night of our charity awards ceremony at the Hotel Unique in São Paulo on Thursday 5 May.
The dinner is being held in aid of three of the region's pro bono clearinghouses. More information and tickets are available here.
Congratulations to all those involved in these transactions.
The shortlists for the capital markets, banking and finance and project finance categories can be found here. The remaining shortlists will be announced tomorrow.
***
Mergers & Acquisitions: private companies
***
Renova Energia sells power asset to BSB Energética and Eletroriver
Counsel to Renova Energia
Felsberg Advogados
Counsel to BSB Energética and Eletroriver
Cescon, Barrieu, Flesch & Barreto Advogados
***
QuintoAndar buys Navent in cross-border proptech deal
Counsel to QuintoAndar Servicios Inmobiliarios
In-house counsel - Ana Pellegrini and Alessandra Boin
White & Case LLP
White & Case SC
Wilson Sonsini Goodrich & Rosati
Araquereyna
Arias, Fábrega & Fábrega
Beccar Varela
BMA - Barbosa Müssnich Aragão
Bustamante Fabara
Ferrere (Uruguay)
Miranda & Amado
Campbells
Counsel to Navent Group
In-house counsel – Pilar Etcheverry Boneo
Greenberg Traurig LLP
D'Empaire
Guyer & Regules
KLA Advogados
Kuri Breña, Sánchez Ugarte y Aznar
Marval, O'Farrell & Mairal
Philippi, Prietocarrizosa Ferrero DU & Uría (Peru)
Springarn & Marks
Sucre Arias Reyes
On antitrust matters
Counsel to Navent Group
Mattos Filho, Veiga Filho, Marrey Jr e Quiroga Advogados
***
Liberty acquires Telefónica's Costa Rica business
Counsel to Liberty Latin America
Baker Botts LLP
EY Law (Costa Rica)
Counsel to Telefónica
Latham & Watkins LLP
Arias (Costa Rica)
***
Mergers & Acquisitions: public companies
***
AT&T sells LatAm assets to Argentina's Grupo Werthein
Counsel to Grupo Werthein
Skadden, Arps, Slate, Meagher & Flom LLP
Bruchou, Fernández Madero & Lombardi
Bustamante Fabara
Carey
Demarest Advogados
D'Empaire
Guyer & Regules
Nader, Hayaux & Goebel
Posse Herrera Ruiz
Rodrigo Elías & Medrano Abogados
BZSE Attorneys
Chancery Chambers
Pollonais, Blanc, de la Bastide & Jacelon
Counsel to AT&T
Sullivan & Cromwell LLP
Cuatrecasas
Barros & Errázuriz Abogados
Bomchil
Galicia Abogados
Veirano Advogados
Counsel to DirecTV and Alpha Tel Holdings
Maples Group 
***
Multiple firms steer US$1.1 billion StoneCo-Linx merger
Counsel to StoneCo
Davis Polk & Wardwell LLP
Mattos Filho, Veiga Filho, Marrey Jr e Quiroga Advogados
Spinelli Advogados
Levy & Salomão Advogados
Counsel to Linx
White & Case LLP
Pinheiro Neto Advogados
Counsel to Linx's independent committee and the independent members of the board of directors
Wald, Antunes, Vita e Blattner Advogados
Ulhôa Canto, Rezende e Guerra Advogados
Counsel to the fiscal committee
TozziniFreire Advogados
***
Colombia's Ecopetrol buys majority stake in ISA
Counsel to Ecopetrol
Baker McKenzie (Argentina)
Baker McKenzie (Chile)
Baker McKenzie (Colombia)
Estudio Echecopar member firm of Baker McKenzie International
Trench Rossi Watanabe 
Counsel to the Financiera de Desarrollo Nacional and the Colombian Ministry of Finance
Claro & Cía
TozziniFreire Advogados
Payet, Rey, Cauvi, Pérez Abogados
Posse Herrera Ruiz
***
Corporate finance: ESG
***
Grupo Bimbo gets first sustainable financing
Counsel to Grupo Bimbo
Skadden, Arps, Slate, Meagher & Flom LLP
Galicia Abogados
Counsel to BBVA México, Banco Santander, Bank of America, Citibank, HSBC México, ING Bank, JP Morgan Chase Bank, Mizuho Bank and MUFG Bank
Davis Polk & Wardwell LLP
Ritch Mueller y Nicolau, SC
***
B3 makes US$700 million sustainability-linked bond offer 
Counsel to B3
Milbank
Pinheiro Guimarães
Counsel to Counsel to Banco Bradesco BBI, Citigroup Global Markets, Itau BBA, JP Morgan Securities, MUFG Securities Americas, Bank of America Securities, Banco Safra and Santander Investment Securities
Clifford Chance LLP
Machado Meyer Advogados
Counsel to Deutsche Bank Trust Company Americas
Holland & Knight LLP
***
CMI Energía makes Central America's largest green debt tap
Counsel to CMI Energía and Investment Energy Resources
In-house counsel to CMI Energía– Salomón Vaie, Rubén Contreras, María Fernanda Esquivel, Esteban de la Cruz, Javier Bauer, Karolina Barrantes and Nadia Arriaga
Clifford Chance LLP
Alta QIL+4 Abogados
Arias (Nicaragua)
BLP (Honduras)
Consortium Legal (Costa Rica)
Medina Garrigó
Counsel to WCG Energy
Graham Thompson Attorneys
Counsel to Citigroup Global Markets and JP Morgan
In-house counsel to Citigroup – Karin Herman and Katrina Youssef 
In-house counsel to JP Morgan – Lola Ogunmefun 
Simpson Thacher & Bartlett LLP
BLP (Costa Rica)
Consortium Legal (Guatemala)
Consortium Legal (Honduras)
***
Private equity
***
GIP buys largest private power generator in Mexico
Counsel to Global Infrastructure Partners
Latham & Watkins LLP
Creel, García-Cuéllar, Aiza y Enriquez SC
Counsel to senior management team of Saavi Energía
Linklaters
Counsel to Actis 
Milbank 
Galicia Abogados 
***
KKR and Telefónica launch US$1 billion fibre optics venture in Chile
Counsel to KKR 
Simpson Thacher & Bartlett LLP
CMS Carey & Allende
Counsel to Telefónica
In-house to Telefónica Hispam - Diego Colchero
In-house counsel to Telefónica Chile - Gladys Fuentes and Claudio Monasterio
Latham & Watkins LLP
Guerrero Olivos
***
Brazil's IG4 acquires stake in Peruvian infrastructure group Aenza
Counsel to IG4
Shearman & Sterling LLP
Miranda & Amado
Counsel to Aenza
In-house counsel – Daniel Urbina
Simpson Thacher & Bartlett LLP
Hernández & Cía
Counsel to selling shareholders
Rubio Leguía Normand