Deal of the Year: the shortlists for disputes, regulatory and restructuring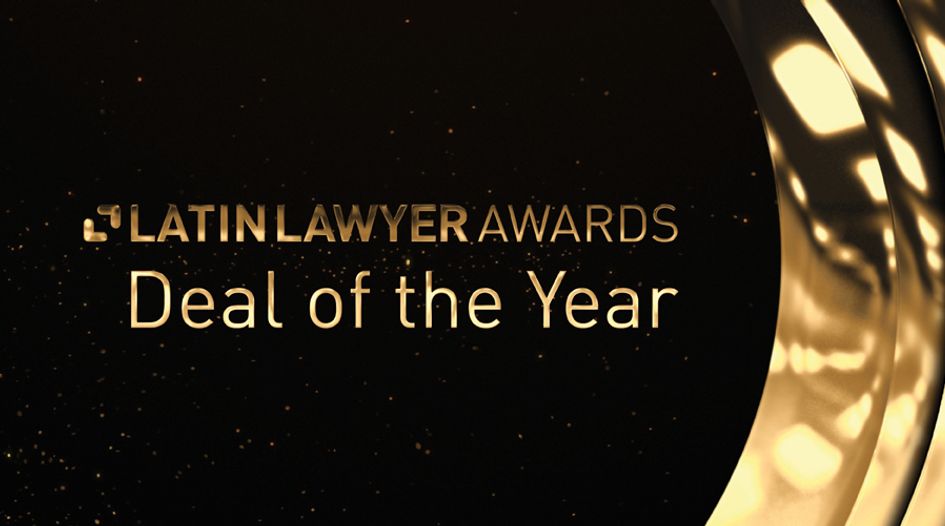 Latin Lawyer is delighted to announce the deals shortlisted for the disputes, regulatory and restructuring categories of our 17th annual Deal of the Year Awards.
Listed below are the three deals that have been shortlisted in each category.
The winners will be announced on the night of our charity awards ceremony at the Hotel Unique in São Paulo on Thursday 11 May.
The dinner is being held in aid of a select number of the region's pro bono clearinghouses. More information and tickets are available here.
Congratulations to all those involved in these transactions.
More shortlists will be announced in upcoming briefings.
***
Disputes
***
Rutas de Lima vs the Metropolitan Municipality of Lima  
Counsel to Rutas de Lima 
White & Case LLP
Estudio Echecopar member firm of Baker McKenzie International
Rodrigo, Elías & Medrano Abogados 
***
GICOM Consorcio and Odebrecht/Andrade Gutierrez vs Santo Antonio Energia
Counsel to GICOM Consorcio
Demarest Advogados
Counsel to GICOM
Latham & Watkins LLP
Counsel to Odebrecht and Andrade Gutierrez
FCDG Ferro Castro Neves Daltro & Gomide Advogados
Correia, Fleury, Gama e Silva Advogados 
***
Energía Costa Azul vs Shell and Gazprom
Counsel to Energía Costa Azul (ECA)
Sullivan & Cromwell LLP
Von Wobeser y Sierra SC
***
Regulatory matter
***
Pharma buy first to pass phase II of Peru's new antitrust law
Counsel to Farmacéutica Euroandina 
In-house counsel – Connie Univazo 
Philippi Prietocarrizosa Ferrero DU & Uría (Peru) 
Counsel to Hersil 
Miranda & Amado 
***
Honeywell US$202 million settlement for foreign bribery scheme
Counsel to Honeywell
Latham & Watkins LLP
Kirkland & Ellis LLP 
Wielewicki, Maia & Trovo Advogados (WM&T)
***
Aegea wins bid in Corsan privatisation
Counsel to Aegea 
Tauil & Chequer Advogados in association with Mayer Brown 
Souto Correa Advogados 
Counsel to Companhia Riograndense de Saneamento (Corsan) 
Lefosse 
***
Restructuring
***
LATAM Airlines exits Chapter 11
Counsel to LATAM Airlines 
Cleary Gottlieb Steen & Hamilton LLP 
Norton Rose Fulbright
Togut, Segal & Segal LLP 
Claro & Cía 
Demarest Advogados 
Machado Meyer Advogados
Brigard Urrutia  
Pérez Bustamante & Ponce (PBP) 
Rodrigo, Elías & Medrano Abogados 
Counsel to Delta Airlines 
Davis Polk & Wardwell LLP 
Barros & Errázuriz Abogados 
Counsel to Qatar Airways 
Alston & Bird LLP 
Mattos Filho
Carey 
Counsel to the ad hoc group of claimants 
Kramer Levin Naftalis & Frankel LLP 
Bofill Escobar Silva Abogados 
Coeymans, Edwards, Poblete & Dittborn 
Counsel to the ad hoc group of LATAM bondholders 
White & Case LLP 
Bofill Mir Abogados 
Counsel to Bank of America 
Paul Hastings LLP 
Pinheiro Neto Advogados
Counsel to local bondholders and Banco Estado  
In-house counsel to Banco Estado - Gabriela Blu Salcedo and Arturo Corte Eterovic
Paul Hastings LLP  
Garrigues (Chile) 
Honorato Delaveau 
Gutiérrez, Waugh, Jimeno & Asenjo 
Counsel to the official committee of unsecured creditors 
Dechert 
Morales & Besa
Counsel to Oaktree Capital Management 
White & Case LLP 
Cescon, Barrieu, Flesch & Barreto Advogados 
ROBALINO 
DLA Piper (Chile) 
DLA Piper Martínez Beltrán 
DLA Piper (Peru) 
Counsel to Knighthead Capital Management 
Quinn Emanuel Urquhart & Sullivan LLP 
Counsel to Cueto Group and Eblen Group as shareholders of LATAM 
Wachtell, Lipton, Rosen & Katz 
Cuatrecasas (Chile) 
Counsel to Columbus Hill Capital Management  
Hunton Andrews Kurth LLP  
For the exit financing 
Counsel to JP Morgan and Goldman Sachs 
Simpson Thacher & Bartlett LLP 
Cescon, Barrieu, Flesch & Barreto Advogados 
DLA Piper (Chile) 
DLA Piper Martínez Beltrán 
***
Canadian energy group sells Argentine assets amid Chapter 11
For the acquisition 
Counsel to SCC Power and MSU Energy Holding 
Simpson Thacher & Bartlett LLP 
McCarthy Tétrault LLP 
Maples Group  
Tavarone, Rovelli, Salim & Miani 
Counsel to Stoneway Capital 
Shearman & Sterling LLP 
Bennet Jones LLP 
Carey Olsen 
Bomchil 
For the restructuring 
Counsel to Stoneway Capital 
Shearman & Sterling LLP 
Bennet Jones LLP 
Bomchil  
Carey Olsen 
Counsel to the ad hoc group of bondholders 
Cleary Gottlieb Steen & Hamilton LLP 
Osler, Hoskin & Harcourt LLP 
Bruchou & Funes de Rioja
Conyers 
Counsel to UMB Bank 
Perkins Coie LLP 
Pérez Alati, Grondona, Benites & Arntsen (PAGBAM) 
Counsel to TMF Trust Argentina 
Marval O'Farrell Mairal 
Counsel to the mezzanine financing lenders 
Dechert 
Goodmans LLP 
Walkers 
***
Brazil's Constellation completes second restructuring
Counsel to Constellation 
White & Case LLP 
Ogier
Loyens & Loeff
Galdino & Coelho, Pimenta, Takemi, Ayoub Advogados
Mattos Filho 
Counsel to Banco Bradesco 
Norton Rose Fulbright 
Machado Meyer Advogados 
Counsel to ALB Lenders 
Cleary Gottlieb Steen & Hamilton LLP 
Stocche Forbes Advogados
Counsel to LUX Oil & Gas International 
BMA Advogados 
Counsel to the ad hoc group of bondholders
Milbank
Thomaz Bastos, Waisberg, Kurzweil Advogados
Counsel to the ad hoc group of lenders 
Dechert