Mexico anticorruption leniency programme could threaten antitrust efforts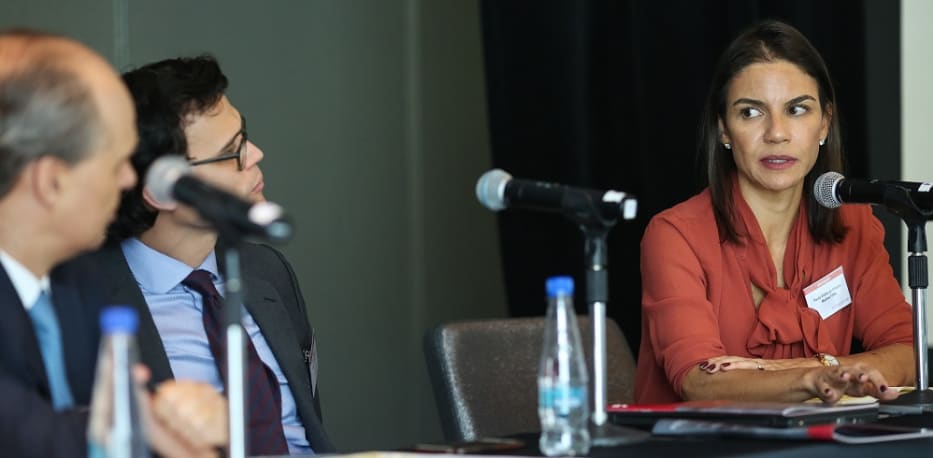 L-R: Christian Lippert, Jaime Cubillos and Paula Vieira de Oliveira
Failure to provide criminal immunity under Mexico's new anticorruption provisions could kill the country's successful antitrust leniency programme, warned panellists at Latin Lawyer 8th Annual M&A in Mexico City.
Criminal immunity is not regulated by new anticorruption leniency provisions, whereas all leniency applicants under Mexican antitrust law are granted total immunity for criminal charges levied by the antitrust regulator, COFECE.
Lack of criminal immunity will likely put companies off applying for leniency in anticorruption cases, said Fernando Carreño of Von Wobeser y Sierra in Mexico City. "I can't imagine a company or any individual applying for leniency but being exposed to criminal liability," said Carreño. "It's something they need to change immediately if they really want this programme to be effective."
Collusion is illegal under both antitrust and anticorruption regulations. Panel moderator Christian Lippert of Galicia Abogados in Mexico City warned that the anticorruption provisions' failure to provide criminal immunity "would kill immediately the antitrust leniency programme."
In place for more than a decade, Carreño labelled the latter as a success – largely because of its stance on criminal immunity. "Total immunity for potential criminal charges is the most important incentive for companies and individuals to apply for the [antitrust] leniency programme," he says.
There are other differences between the two sets of regulations – under anticorruption regulations leniency is only available to the first applicant, whereas leniency in antitrust investigations is available to multiple applicants, with the benefit reduced with each one.
Carreño pointed to further grey areas. The anticorruption authority has not yet clarified how it will manage evidence of illegal behaviour submitted as part of a leniency application. Under the antitrust leniency programme, applicants' identities are kept confidential. "A key element is confidentiality of the identity of the applicant, in order to avoid any future retaliation, but that's not covered here, and it's very important," said Carreño. "Another point that is critical, is how the information provided by the applicant is managed by the authorities, because in addition to any potential criminal exposure there is also exposure to future civil actions for damages and losses."
Meanwhile in Latin America's largest economy, lack of coordination between different authorities has posed a hurdle for companies looking to negotiate leniency deals under Brazil's Clean Company Act. But if companies can strike an agreement, it provides enough certainty for them to continue their business. "When Lava Jato came out, no one knew we would still be able to do M&A with a fair, good amount of certainty," said Paula Vieira de Oliveira, a partner at Mattos Filho, Veiga Filho, Marrey Jr e Quiroga Advogados in São Paulo. "We have clients that have been doing business under the scope of leniency agreements, or we've seen counterparties doing that, and there's a reasonable safe ground there," she said.
Brazil's public prosecutor's office has even gone so far as to issue statements giving assurance to prospective buyers of assets covered by leniency agreements. "The government has been endeavouring to be more sensitive to the issue that the leniency agreement has to cover it all," said Vieira. "The government knows implicated companies have to sell assets as a matter of survival and the economy surviving."
Vieira described the business environment in Brazil as "completely different" post-Operation Car Wash. "The old way of doing business has changed; we see Brazilian entrepreneurs that were used to doing business a certain way and [now] they are having to totally change their mind-set," she said. "There was this idea of complete impunity, which has been totally broken."
Panellists also highlighted how due diligence processes have changed in the anticorruption era, with customary checks no longer an option across the region. Jaime Cubillos of Posse Herrera Ruiz in Bogotá recommended lawyers document their due diligence methods in case they need to rely on a diligence defence in a future dispute. "It really matters to do due diligence correctly, effectively and in a customised fashion, rather than a general diligence checklist without any conscientious substantive review or analysis of the information that's available," said Cubillos. "Leave a paper trial so in the future if something jumps, you have everything organised with the appropriate dates and on file so that you don't have to scramble and use it as a defence."
This is especially important in countries like Colombia, which lacks leniency programmes that allow corruption issues to be ring-fenced in a transaction. "If there is some indication that there may be corruption, it becomes a huge transaction issue because there is no way of approaching regulators to try and isolate the issue from the rest of the transaction," said Cubillos.
Latin Lawyer 8th Annual M&A also featured panel discussions on the threat corruption poses to M&A deals; collaboration between local and international counsel; Mexico's oil and gas sector; and what GCs look for in external counsel.