Utilise white-collar crime lawyers in arbitration, urge panelists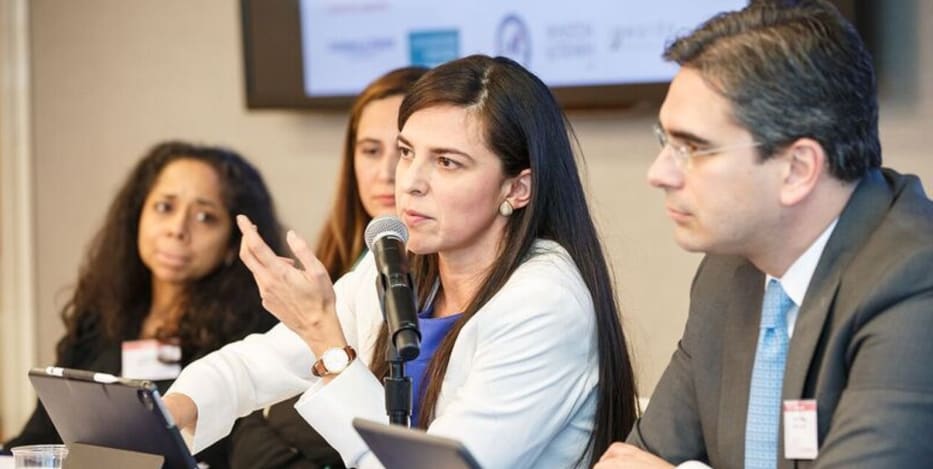 Julissa Reynoso, Cristina Pérez Soto, Margarita Sanchez and Daniel Fridman (Credit: photo by Chris Lavado )
White-collar crime lawyers as well as practitioners from other legal disciplines should be used more often during arbitration proceedings, agreed panelists speaking at this year's Latin Lawyer-GAR Arbitration Summit.
Corruption investigations have become the new normal in Latin America, which means arbitration lawyers may need some extra help from their colleagues. Before starting an arbitration, consider having your white-collar lawyers conduct an internal investigation to check if your client unknowingly has links to corrupt companies, recommended White & Case LLP partner Daniel Fridman. "You want to know this before your client spends a lot of money on an arbitration and winds up getting kicked based on some illegality."
Those who don't conduct an internal investigation also run the risk of having their arbitration issue turned into a criminal one with foreign authorities, Fridman warned. "What if – during the course of the case – evidence comes out that your client was involved in bribery and had some contacts with the US or UK? Now you have yourself an FCPA problem and a criminal problem for your client."
Fridman's comments set the tone for a wider debate on the importance of white-collar crime advice in arbitration. "Arbitration counsel may be reticent to call [investigation counsel], but I think it would be the best practice," Jones Day partner Cristina Pérez Soto said. "We want you to call us and for us to be able to conduct an internal investigation if something comes up, even if it's in the middle of a hearing" she said.
And more clients are picking up their phones, according to Pérez Soto. "They look to us to protect the integrity of the process because it's good for them; it is our duty and our loyalty to them but also it's good for business and it means our area of disputes is no longer going to be considered alternative," she said. "I think this continuing interaction with white-collar professionals in arbitration is crucial and it is only going to strengthen the field of arbitration."
Arbitration practitioners may also benefit from collaborating with lawyers who practise other disciplines beside white-collar crime. Founder of Washington, DC, disputes boutique Disan, Margarita Sánchez, recalled investment treaty proceedings involving a Latin American state and a European company. The multidisciplinary team she worked with helped uncover the potential for a criminal investigation, which led the company not to file for arbitration. "On the team we had someone with an anti-corruption background; someone with a project finance background; and we had the disputes people, and that was key," she explained, noting the importance of collaboration bringing a fresh take to a case. "When you are drafting that very first outline of your case, do you have a corruption bullet point? Do you collaborate with other practices? Do you call your white-collar lawyer before starting the case?" she said. "You might find a new line of argument that will give you a new perspective, maybe something that you have missed."
The panel also discussed separability, which is the principle that an institution is not punished for the corrupt actions of its employees or senior officers. Winston & Strawn LLP partner Julissa Reynoso argued that the flurry of anti-corruption laws sweeping the region over the past few years could support this principle as an argument for the defence. "If you have more robust anti-corruption laws and enforcement, I think it is much more reasonable to say that these individuals who were representing the state or acting as agents for the state were doing it on their own," Reynoso said. "It would be easier to prove than in the case of a state that is rampantly corrupt and has little to no enforcement."
Adriana Braghetta, co-ordinator of L O Baptista Advogados' arbitration practice, moderated the panel. Latin Lawyer's coverage of the event will continue over the coming weeks. Previous reports assessed the use of statuets when enforcing arbitral awards against non-signatories and considered why price evaluations and competition are causing a rise in M&A disputes.