Other oil and gas opportunities exist if NAFTA fails, say panellists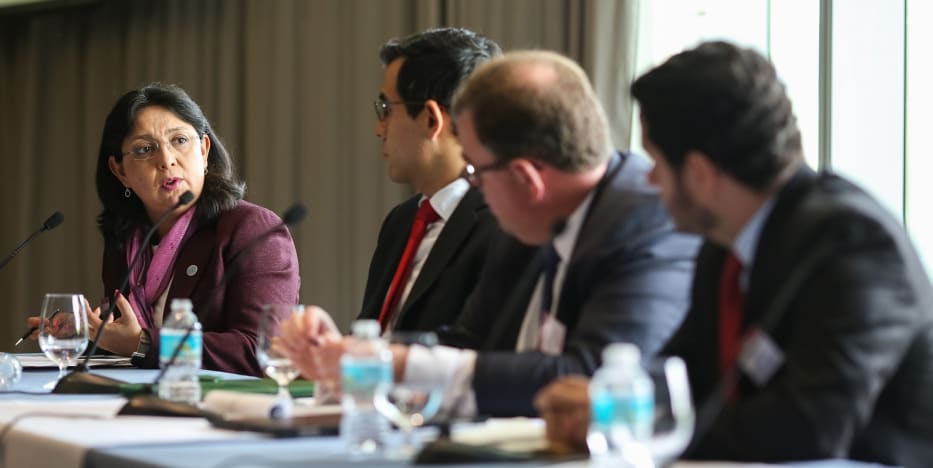 Ligia González Lozano, Fernando Zendejas Reyes, Michael Edney and Felipe Rodrigues Caldas Feres (Credit: photo by Lindsay Lauckner Gundlock )
While scrapping NAFTA will harm energy integration between Mexico, the US and Canada and remains a real threat, there will be other opportunities for Mexico if renegotiation talks fail, heard delegates at the Latin Lawyer Live 9th Annual Oil & Gas Conference, held yesterday in Mexico City.
Mexico, the US and Canada reached an agreement on NAFTA's energy chapter in Washington, DC in April, leaving only minor issues to be decided by relevant ministers. Fernando Zendejas, undersecretary at Mexican energy secretariat SENER, said he was "confident" the agreement would be finalised "because scrapping NAFTA will have a negative effect on the integration we have long worked for."
Still, a US withdrawal from NAFTA remains a possibility. "President Donald Trump does not want to fail his campaign promises, and although it is very different, he just pulled out of the Iran deal," noted Michael Edney, a partner at Norton Rose Fulbright in Washington, DC.
Norton Rose Fulbright partner William Wood and González Calvillo, SC partner Enrique González Calvillo chaired Wednesday's event.
Under NAFTA, which dominated the first panel of the conference moderated by Mexican conglomerate Grupo Bal's legal M&A director Ligia González Lozano, Mexico has achieved energy integration with Canada and the US, something other Latin American states aspire to, noted Felipe Rodrigues Caldas Feres, a partner at Brazilian firm Mattos Filho, Veiga Filho, Marrey Jr e Quiroga Advogados. "NAFTA is often looked at as an ideal agreement that we want to achieve in the Southern Cone, so we really want NAFTA to survive" said Feres. "We have Mercosur, but that is nowhere close to what NAFTA is."
Still, there are opportunities if NAFTA does not survive. "If NAFTA fails, there are opportunities for Brazil and Mexico, including collaboration with Petrobras, and an opportunity for other investors coming from other countries," said Feres.
The existing NAFTA agreement states that any member can withdraw with six months' notice. Under US law, a trade agreement must pass through both US Congress and the Senate, meaning President Trump needs both houses to approve the withdrawal, noted Edney. "The President may lack the required Congressional support to withdraw from NAFTA, especially as most of his own party does not want to," said Edney. On the other hand, a house resolution may allow him to increase tariffs as he finds appropriate, which could have similar effects in reality as a withdrawal, added Edney.
Feres highlighted the importance of maintaining NAFTA's current investment protections in any new agreements.
The US has pushed to scrap arbitration and dispute resolution mechanisms under chapter 11 of NAFTA – even though no US party has ever lost any case under these mechanisms – in a bid to prevent the Mexican judiciary having final say on some disputes. "The US does not like international courts and tribunals and less so to be dependent on them," noted Edney. "It is seldom that a document survives 24 years [so] it is probably a good idea to update the agreement to make it more adaptive to current situations and more durable," he added.

Mexico holds presidential elections in July and left-wing populist candidate Andrés Manuel Lopez Obrador is currently ahead in the polls. Still, SENER's Zendejas believes the 2014 energy reform will be hard for any president to revoke. "We do not want a pendulum effect as we have seen in many other Latin American countries, where one government does the absolute opposite of the previous," he said.
A result of the energy reforms, Mexico has expanded its natural gas distribution network using private investment, reducing the use of oil and diesel, heard delegates. "By the end of 2018 the gas network will reach almost all Mexican states," said keynote speaker Guillermo Turrent Schnaas, director general at the Federal Commission of Electricity, CFE.
Latin Lawyer will continue to report on the Latin Lawyer Live 9th Annual Oil & Gas Conference in the daily news briefing over the coming weeks.