Respectful collaboration earns more M&A referral work, agree speakers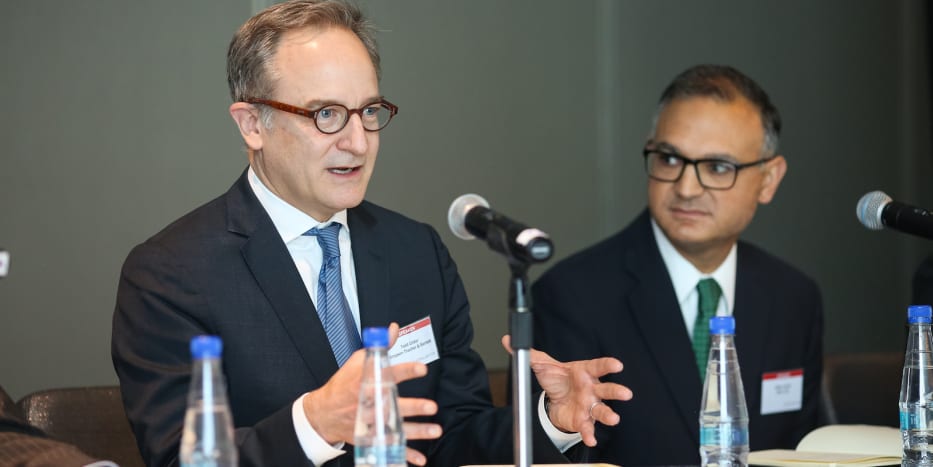 Todd Crider and Felipe Larraín (Credit: Lindsay Lauckner)
Big international firms are getting an increasing amount of M&A work on a referral basis from their Latin American counterparts and should adopt a more supportive role in the deal-making process in response, agreed panellists speaking at Latin Lawyer's 8th Annual M&A conference held in Mexico City last month.
International firms like are Simpson Thacher & Bartlett LLP getting more and more of their M&A work in Latin America on a referral basis said Todd Crider, a big-name partner at the outfit. "As a result, I think we are increasingly comfortable that our role in some cases is not to drive the bus, but act as navigator, sitting in the back seat and helping when necessary."
However, not all international firms have taken such a respectful approach and risk losing valuable referral opportunities as result. "Often as local counsel, dynamics with international counsel that purport to be sophisticated and knowledgeable about certain jurisdictions are not," noted Creel, García-Cuéllar, Aiza y Enriquez SC's Jean Michel Enríquez. "International counsel should avoid hogging the microphone and not being collaborative," he affirmed, adding that his firm was lucky enough to have avoided this situation.
Felipe Larraín, a prominent transactional partner at Chile's Claro & Cía, also had some advice for international firms. "Don't make assumptions," he said. "Don't assume deals you have done in the past are going to be like this one, because you really need to know the client and that doesn't just mean the in-house counsel, but also the business people that are going to do the project after you are out."
Paulo Cezar Aragão, a partner at BMA - Barbosa, Müssnich, Aragão's and the panel's chair, struck a similar tone. "If there is just one sentence that makes me really mad, it would be 'it's always done like that,'" he said. "If I've just learned one thing in all these years, it's that no two transactions are alike."
It's not only US or European firms that need to avoid dominating Latin American deals. As the region's market becomes more sophisticated, local firms are now acting as lead counsel in south-south cross-border deals. Claro & Cía's Larrain admitted that resisting the urge to seize control of these transactions wasn't always easy. "You have to somehow control yourself and try not to impose the way you are doing business on them," he said. "They know the local law and everyone has their own standards for how they produce contracts."
Among top international and local firms, years of cross-border cooperation is helping firms from different countries trust each other's abilities. "For those of us that are fortunate enough to work with the sophisticated New York and London-based firms, we are at a point where we respect each other," said Creel García-Cuéllar's Enríquez. "The whole dynamic of foreign associates and the personal relationships that have been developed now results in having very well co-ordinated teams that share the blame or success of a transaction."
Enríquez added that clients were often to blame when international or local counsel was chosen poorly in M&A deals. "I think clients need to make sure whomever they bring to deals are respectful of the need to share the spotlight," he said.

Latin Lawyer's coverage of its 8th annual M&A conference will continue in the weeks ahead. Previous reports analysed how corruption concerns may be a bigger short-term threat to M&A activity than political polarisation in countries like Brazil and Mexico.