Corruption, not politics, threatens LatAm M&A activity, agree panellists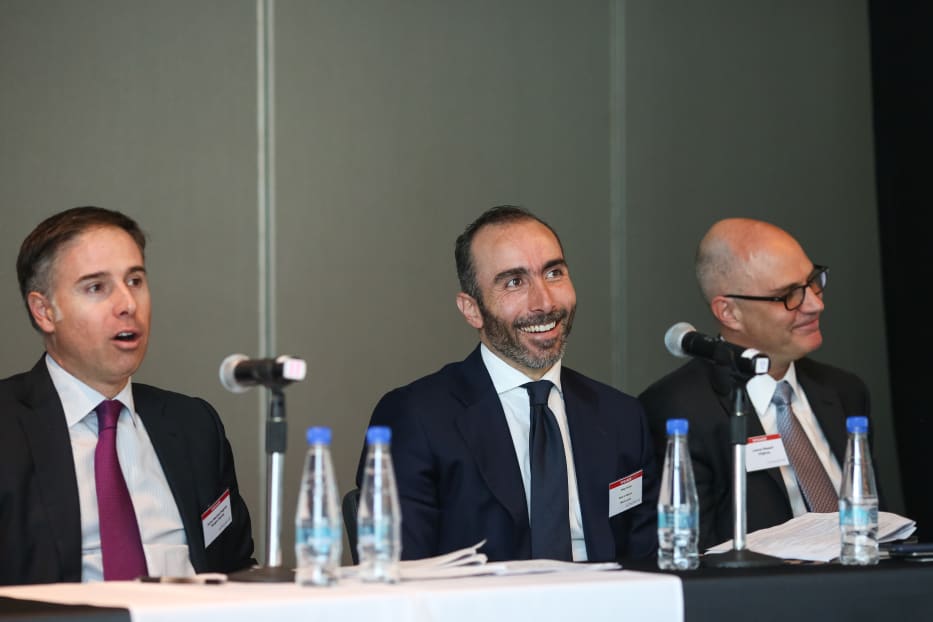 Jaime Martinez-Negrete, Diego Suarez and Lorenzo Massart (Credit: Lindsay Lauckner)
Presidential elections in some of Latin America's biggest economies this year may help rather than hinder the region's already promising M&A market, but corruption concerns continue to dampen its potential, agreed panellists speaking at Latin Lawyer's 8th annual M&A conference held yesterday in Mexico City.
Brazil, Costa Rica, Colombia, Mexico, Paraguay and Venezuela all have presidential elections in 2018, but a panel of bankers and private equity investors were bullish about M&A prospects and suggested political uncertainty may even bolster the market.
Mexican voters will soon cast their ballot in July. "The uncertainty in Mexico has adjusted evaluations pretty dramatically," said Jaime Martinez-Negrete, the managing director of Morgan Stanley's investment banking division in Mexico City. "For buyers, expectation at some of these selling companies may be more realistic and that's why you see M&A volumes picking up."
Lorenzo Massart, managing director of Citigroup's investment banking division in New York, struck a similar note on the broader region. "There are a lot of elections coming up and that creates opportunities before and after the vote," he said. "The deal pipeline is very strong and we think 2018 will be a very good year."
A growing number of companies have been demanding buyers pay unrealistic asking prices recently, which explains why political uncertainty isn't necessary bad for the region. Lorenzo Gonzalez Bosco, managing director for the Mexican and Andean region at Singaporean sovereign wealth fund Temasek, drew special attention to the subject. "There's plenty of money coming into the region, but the problem has been finding the right opportunities at the right price," he said. High stake electoral may encourage them to accept lower offers.
Panellists also tempered concerns over some of the region's more radical leaders coming to power this year. In particular, Martinez-Negrete played down any alarmism surrounding Andrés Manuel López Obrador, the polemic left-winger currently leading the polls in Mexico. "When you look at his policy aims and the sources for funding them, we do have some good news because the budget for this year has been done with an oil price in the mid-40s in mind when it's in the 60s, and debt-to-GDP has gone down," he said. "There will be money and I wouldn't expect anything dramatic in the first couple of years."
Instead, the Car Wash corruption scandal in Brazil and the spillover effect it has had on the rest of the region is likely to be the main drag on M&A investment. "All the projects in regard to infrastructure have been postponed in Chile and all the financing for the 4G concession in Colombia have been delayed for one to two years," said Citigroup's Massart. "Now compliance is a main part of the due diligence we do in every single deal," he added.
Corruption concerns are also stoping some M&A activity before it even starts. Many investors now consider good corporate governance practices essential before considering any acquisition, while sellers who are found lacking cannot expect to net a sale by offering a discount. "It's a binary issue," said Temasek's Gonzalez Bosco. "You aren't going to pay less for a company that doesn't have good corporate governance because you just aren't going to buy it," he declared.
Advice to lawyers representing companies looking for buyer was clear. "It takes a lot of time to implement a good corporate governance programme, so it's advisable to tick the basics before you go into a process," said Diego Suarez, director of investment banking at Bank of America Merrill Lynch in New York.
The panel was moderated by Paul Schnell, partner at Skadden, Arps, Slate, Meagher & Flom LLP's New York office. Coverage of the conference, which was co-chaired by Schnell and Patricio Trad of Mexico's Mijares, Angoitia, Cortés y Fuentes SC, will continue over the weeks ahead.