"US the world's biggest tax haven", hear delegates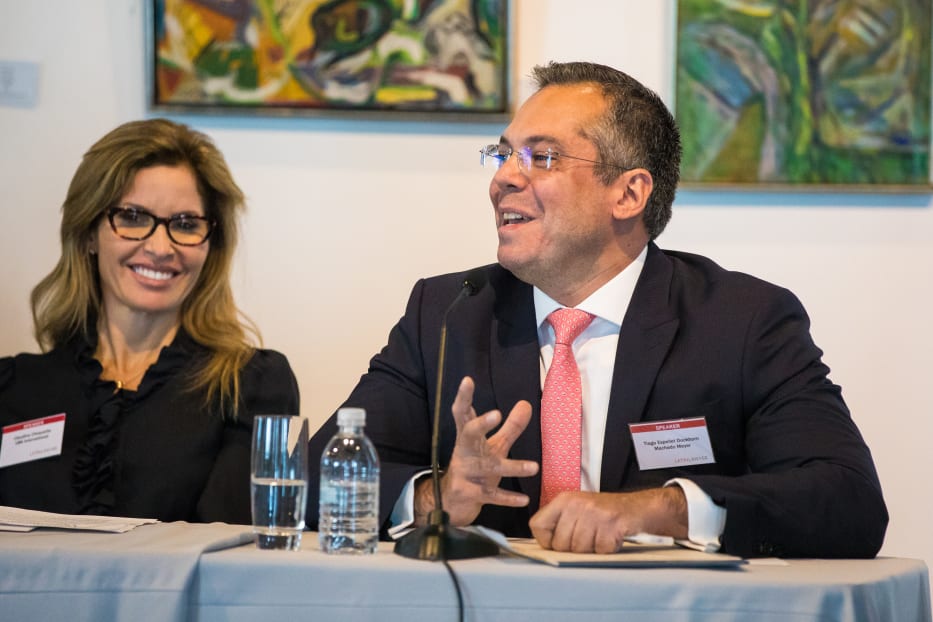 Claudine Choquette and Tiago Espelle Dockhorn (Credit: Chris Lavado)
The head of Florida's international bankers' association (FIBA) categorised the US as a tax haven and one of the world's "least transparent jurisdictions" at Latin Lawyer's 2nd Annual Tax Summit, held in Miami yesterday.
"The US has not signed up to the common reporting standards (CRS), so information is coming in but not necessarily going out," said FIBA CEO David Schwartz. "We are one of the least transparent jurisdictions in the world – the US is the world's biggest tax haven." The CRS is an OECD initiative that compels signatories to exchange tax and financial information with the aim of combating tax evasion. Though the US has not signed up, around 80 countries have.
Machado Meyer Advogados partner Tiago Espellet Dockhorn said banking privacy is high in the US compared to global standards, partly because it hasn't signed up to the CRS. "The US is the last bastion of having certain levels of protection for beneficial owners," he said. People are even closing bank accounts in jurisdictions traditionally seen as tax havens, such as Switzerland and Luxembourg, to open in the US instead, continued Dockhorn.
The CRS is not the first attempt to introduce transparency to the global tax system. FATCA, upon which the CRS is based, is a US law introduced in 2010 that requires non-US institutions to declare assets owned by US tax payers. But though FATCA signatory countries must share information with the US, the US does not have to reciprocate.
Many think the CRS digs even deeper than FATCA partly because it places an equal obligation on all signatories to exchange information. Combined with FATCA obligations, the CRS places a "huge burden" on companies, said DLA Piper LLP partner Michael Silva, who moderated the session.
Complying with the growing list of global transparency initiatives is high on the agenda in Latin America. FATCA is still the most important information exchange for small countries in the region, despite the growing importance of CRS, said Rafael Sayagués, managing partner of EY Central America Tax & Law.
The importance of CRS to Latin America is more varied. Countries that are hoping to join the OECD, such as Colombia and Costa Rica, are unsurprisingly more likely to take the CRS requirements seriously, said Sayagués.
Elsewhere in the region, Panama is set to comply with CRS-standard automatic exchange initiatives, added Sayagués. The country has pushed through many reforms after its professional services sector came under the spotlight for all the wrong reasons after the Panama Papers leak in 2016.
Brazil is also in a position to sign up to global information exchange programmes, said Dockhorn. More transparency has a part to play in closing a tax gap equal to 9% of GDP. A tax amnesty in 2016 has gone some way to narrowing the gap, he said, bringing in 47 billion reais (US$14 billion). But a subsequent tax amnesty fell short of expectations, bringing in 1.6 billion reais (US$491 million), well short of the 13 billion reais (US$4 billion) expected. "I don't think there is space for another amnesty," said Dockhorn.
But while some governments may be ready to implement information exchange programmes, panellists expressed concerns about its roll out. Security risks are one worry. "The concern is who will get hold of that information and misuse it," said Dockhorn. "Some governments do not have the technology to properly protect the information."
Schwartz took a similar position, sharing a story of needing a military escort when he was in El Salvador. "I wish I could put the IRS in that car so they could understand the risk," he said.
Still, those concerned should take heart from the US refusing to share information with Venezuela because it did not trust the regime there, added Schwartz. "The exchange will probably stop if there is an issue."
Panellists agreed that the new focus on transparency had changed the job of a tax lawyer. "We have become the extension of an accountant," said UBS International's senior vice president, Claudine Choquette.
It has become more difficult to establish relationships with clients because advisors must be very intrusive, added Choquette. "We have to make it very clear all questions are in the clients' best interests."
Machado Meyer's Celso Costa and DLA Piper's Silva chaired the summit, which took place at The Betsy in Miami Beach.
Latin Lawyer will continue coverage of the conference in its upcoming news briefings.