Onerous regulation impeding PE leveraged buyouts, says panel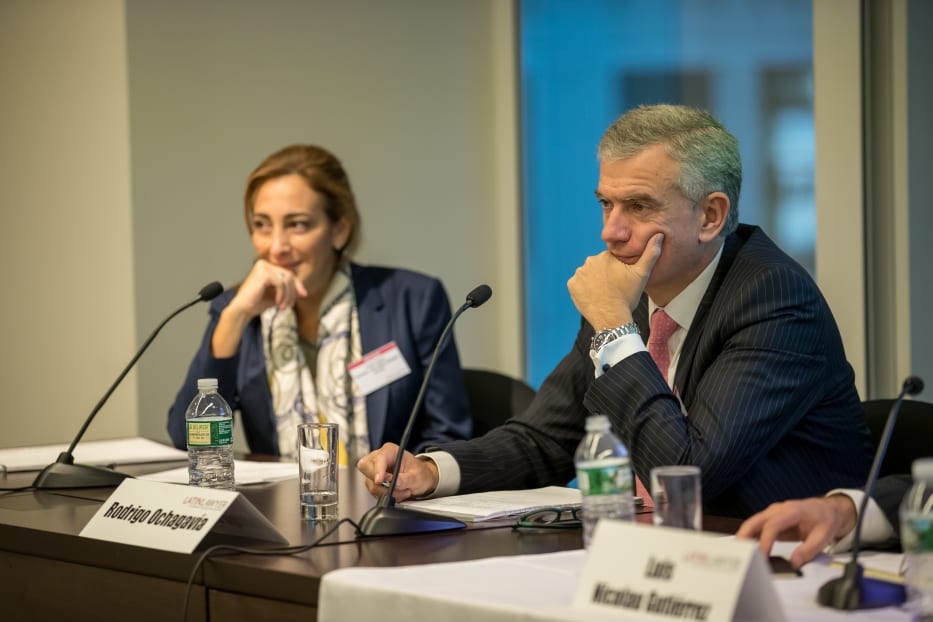 Paola Lozano and Rodrigo Ochagavía. (Credit: FreedomFilmLLC)
Exacting bankruptcy laws and restrictive requirements for buying public companies in Latin America are holding back leveraged buyouts (LBOs) by private equity funds, delegates heard at Latin Lawyer's 8th Annual Private Equity Conference, held in New York last month.
"There's a combination of regulatory impediments to leveraged buyouts," said Skadden, Arps, Slate, Meagher & Flom LLP partner Paola Lozano, who moderated the panel.
A "very low" rate of companies emerging from bankruptcy in Brazil is dissuading private equity funds from launching LBOs in the country, said Machado Meyer Advogados partner Thiago Spercel. This is because lenders are less likely to take part in an LBO if they cannot recoup their losses in the event of bankruptcy.
"Only one out of four companies going into Chapter 11 in Brazil will emerge from bankruptcy," said Spercel.
Brazilian case law makes it hard for companies to pledge assets deemed essential to that company's operations as collateral, said Spercel. This is problematic, because these assets are often used as collateral for the loans in LBOs.
Another obstacle to private equity-led LBOs in Brazil is its recognition of equitable subornation, which means shareholders that also provide credit to a company in Chapter 11 proceedings will be last to be repaid.
In a further blow to private equity funds, which often lend to the entities they hold stock in, investors that hold over 10% of shares cannot vote on a Chapter 11 plan.
"That is a problem because, even if the private equity fund is providing credit and equity investments through different subsidiaries with Chinese walls and different decision-makers, they are shut out of the voting," said Spercel. "There should be an argument that you are not a related person and you should be able to vote, but unfortunately that's not the case."
Chile also bans shareholders that own 10% or more of a company's stock from voting on a bankruptcy plan. Claro & Cía's Rodrigo Ochagavía says selling shares when needed isn't a way around the ban since doing so requires the permission of the bankruptcy trustee. "You will not get the approval if the sale affects the lender's rights, which it certainly will," added Ochagavía.
One way around this restriction may be to insert appraisal rights into company by-laws, said Ochagavía. This will allow shareholders who want to reduce their holding below 10% to argue that selling shares does not need trustee approval. Another option is to convert a stockholding into a different class of shares that do not count towards the 10% threshold, he added.
Attempting an LBO of a public company throws up a whole set of other challenges, agreed panellists. In Mexico, for instance, anybody looking to acquire 10% or more of a company is forced to launch a tender offer for the whole company at a "punitive price", said Ritch, Mueller, Heather y Nicolau, SC's Luis Nicolau.
The Mexican securities commission has tried to circumvent these onerous rules by making companies which are set to go public change their bylaws and increase the percentage at which the tender offer requirement kicks in, said Nicolau.
Another obstacle to public company LBOs in Mexico is that a buyer can only delist a company if they own 95% or more of the company's shares. "If you cannot delist a company that means you have a duty of care and loyalty to the minority shareholders," said Nicolau. This duty of loyalty to minority shareholders makes leveraging a company impossible, he added.
In Brazil, acquiring control of a company also requires launching a tender offer at a price that has to be "fair economic value". Determining what value is "fair" is "opening a can of worms", said Spercel.
Delegates heard that Costa Rica also does not see many LBOs involving public companies. "From our experience, it's more private companies that are subject to LBOs," said BLP's Eduardo Calderon.
Simpson Thacher & Bartlett LLP's Todd Crider and Francisco Ugarte of Chile's Carey chaired the conference, which took place at Simpson Thacher's New York office.
In previous panels, delegates heard how long-term and sector-focused private equity investors are flocking to Latin America, and how corruption issues are derailing many private equity investments. Latin Lawyer will continue to report on the private equity conference in the daily news briefing.